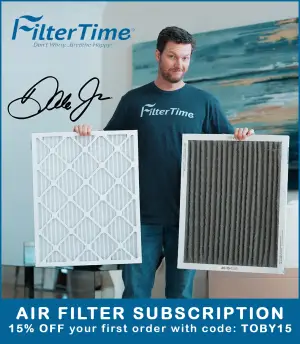 If last Sunday's XPEL 375 was the final time we'll see the NTT IndyCar Series at Texas Motor Speedway, that was a hell of a sendoff.
The perfect combination of aero options, weather conditions and Saturday's 'special session' to try and rubber in the upper lanes came together to deliver the best racing the 1.5-mile superspeedway has witnessed in, at least, five or six years.
In all, the race featured 461 total passes, with 284 of those for position. There were also 15 lead changes between 12 drivers. Oh, and then there was that breathtaking final corner pass for the win from the much-maligned high lane by Josef Newgarden, which brought back memories of the dramatic endings Texas is capable of delivering.
Although Texas has been a steeple on the IndyCar calendar since 1997, uncertainty clouded its future with 2022 marking the final year of the current contract. And there was very little in the way of recent performances to think a renegotiation was in the works.
It's easy to understand why from a series standpoint when, since the reconfiguration in 2017, the track has produced mostly single groove racing. It also didn't help the cause when the PJ1 traction compound was added during NASCAR events, which stained the upper lanes and ultimately hurt the grip level.
This year, IndyCar gave in to Will Power's long-standing suggestion of providing teams with extra sets of tires and focus strictly on trying to lay rubber down in the troubled area. Only seven drivers participated in the added 30-minute session on Saturday. Firestone provided each driver with a set of tires from last year's event at TMS, with the exception of Graham Rahal and Power, who each received two. For reference, the 2021 tires for Texas featured a softer left-side compound.
While speeds progressed in the session, it ended with many thinking it would only be best served for the start and restarts of the 248-lap race, and the likelihood of single lane racing would still persist.
Fortunately, they were wrong.
During the race, the track continued to evolve and so, too, did the on-track product. So, from that standpoint, if the series were to return it most certainly has a reset baseline to build on that should only improve.
However, there is also the issue of attendance. It has been quite a long time since fans have packed the house along the frontstretch at TMS. More often than not, the last few years haven't looked much better than the one where no fans were present at the pandemic-impacted race, which started IndyCar's 2020 season. The most prominent colors from the grandstands has usually been the reflection of the sun off of the aluminum seats, with sparse colors of fans representing their favorite driver speckled around the start/finish line.
Something has to give here.
Some of what I understood is that Texas wanted a doubleheader – as they had in 2021 – this year to help add an additional title sponsor to help mitigate losses due to paying IndyCar's sanctioning fee. Obviously, that didn't happen. A track rental was also proposed and denied.
Instead, the oval hosting a doubleheader is Iowa Speedway, which wasn't on the schedule at all last year. Additionally, Penske Entertainment, owner of IndyCar and Indianapolis Motor Speedway, is helping run the show as a track rental. Perhaps this is all because of the awareness of incoming activation and promotional efforts of Hy-Vee, which has aided the process of having DoorDash, Google and PepsiCo involved and also helped bolster the ticket for fans with pre- and post-race concerts featuring Blake Shelton, Florida Georgia Line, Gwen Stefani and Tim McGraw.
Would IndyCar have been better served to do a track rental at Texas and take over the promotional efforts? Possibly.
As the saying goes, "If you want something done right, do it yourself."
If Iowa does well, and all accounts from ticket sales seem promising, it could show IndyCar that it needs to take the lead for several of its events in question from a promotional standpoint, if for no other reason but to be more in control of its own product delivery.
That's where this gets tricky for TMS, though. It is owned by Speedway Motorsports, which also has command over several other tracks throughout the country. As a resident of the Dallas-Fort Worth area I can tell you there were a handful of radio and television spots for the IndyCar race weekend at TMS, but, at least on my end, I didn't see one billboard advertisement while driving. And beyond Pato O'Ward having an event last Thursday at Texas Live by AT&T Stadium, home of the Dallas Cowboys, there was nothing else that I was aware of from an activation standpoint with the fans.
I put a lack of fans over the weekend on both parties, to be honest. While it doesn't help to see the IndyCar date moved three times in as many years, there simply needs to be more from TMS to activate in the fourth largest sports market in the country. The most critical conflict the track faced in terms of competing sports was NCAA Basketball, with a regional March Madness competition in downtown Fort Worth.
While it is easy to look at TMS and point the finger, it all starts at the top with Speedway Motorsports, in my opinion. Speedway Motorsports has been spending a fortune investing in the reconfiguration and repave of several tracks, including TMS. The newest addition to Speedway Motorsport's plan is Atlanta Motor Speedway, where TobyChristie.com was on-site to cover last weekend's NASCAR round. I was told by a colleague that when getting on an elevator at a hotel, people noticed a credential hanging from his neck and asked when NASCAR would be back in town. Once informed they were already at AMS, the return look was amazement and disbelief.
That same problem exists at TMS.
Perhaps the amount of money used to reconfigure and repave its tracks has left little for the marketing side, but this isn't Field of Dreams. There needs to be a better way to deliver awareness and connect with current and potential fans again.
If Speedway Motorsports can't and is solely focused on taking care of the facilities, then that's where Penske and Co. need to take the reins at a venue like TMS. Damn the sanctioning fees if the party can elevate the event, by whatever and whoever takes charge. North Texas is, after all, where several companies involved with the sport are. I mean, look no further than NTT Data, the title sponsor for the series, which is based just north of Dallas.
Additionally, there needs to be a desire for drivers and teams to simply go outside. We all love IndyCar and want to share that passion with the rest of the world. Certainly, it's easy to do via Zoom or on social media, but the connection needs to be more personal, that's where people get invested. There needs to be an effort – as a group – for more in-person activations leading into a race weekend, particularly in a market like DFW.
Let's call it the 'Indianapolis model'. It appears Iowa is adopting a mini-version of the Indianapolis 500 Snake Pit, which is great because it is becoming increasingly important to build a festival atmosphere in one place and let the events carry on wherever the interests take ticket holders. Obviously, that doesn't happen at Indy without good partners, just like with Hy-Vee at Iowa.
That's where the marketing for either Penske Entertainment, Speedway Motorsports or both need to make the effort with TMS. Simply put, fans show up when they feel like they matter.
In many ways, I look at last Saturday when seven drivers gave that extra effort just with the hope it would lead to something better on Sunday. That happened, and it turned into a great race.
Imagine what would happen if IndyCar returned to Texas next year, but instead of only seven drivers hoping for something better, it was the entire paddock – drivers, teams and sponsors, Penske Entertainment, Speedway Motorsports and Texas Motor Speedway.
I bet it would be something even more special.