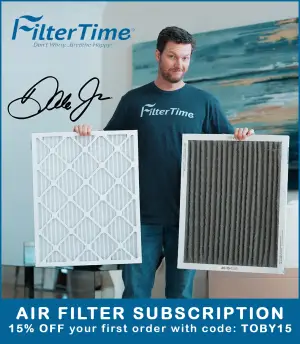 Over the last three years, Venturini Motorsports has been nearly untouchable on the superspeedways in the ARCA Menards Series, a trend that continued in Saturday's Lucas Oil 200 Driven by General Tire.
Corey Heim – who earned the pole position in the No. 20 Crescent Tools Toyota Camry — led an astonishing 74 of 80 laps in the event, the most any driver has led in an event at Daytona since 2006.
Heim, along with teammates Gus Dean and Parker Chase, paced the field for the majority of the event, relinquishing the lead once for a six-lap period under caution, where the trio elected to come down pit road. However, Heim was able to reclaim the lead within a lap.
The event was brought to a pacing speed four times for a total of 27 laps. The first time, on lap 22 was for a single-car spin by Eric Caudell in turn three.
After the scheduled halfway break at lap 40, the pack became tighter, ultimately creating the only multi-car accident of the event, which happened when Jason Kitzmiller was turned on the backstretch, collecting Will Kimmel.
However, ahead of the accident, Dave Mader III, driving the Spraker Racing No. 63, didn't realize a caution had flown, pushing Gus Dean into both Greg Van Alst and Andy Jankowiak.
The final caution of the race was displayed with under five laps to go, when both Scott Melton and Christian Rose had mechanical issues, stopping on the track. The race's final restart was a one-lap shootout, with Venturini Motorsports cars holding down the front row.
Drew Dollar – driving the No. 18 for Kyle Busch Motorsports — got tipped into the backstretch wall on the final lap of the race, making a significant impact with the outside wall. However, no caution was flown, but the pack was stretched out, meaning nobody could make a move on Heim.
While Heim captured the fifth consecutive superspeedway victory for Venturini Motorsports, his teammate, Parker Chase finished in second. Championship contender, Daniel Dye, finished in third, with Sean Corr and Gus Dean rounding out the top-five.
Andy Jankowiak, Mason Diaz, Dave Mader III, Toni Breidinger, and Ryan Huff rounded out the race's top-10.
---
Lucas Oil 200 Driven by General Tire RESULTS:
| Ps | Car | Driver | Laps | Diff. | Points |
| --- | --- | --- | --- | --- | --- |
| 1 | 20 | Corey Heim | 80 | --- | 49 |
| 2 | 15 | Parker Chase | 80 | -0.156 | 42 |
| 3 | 43 | Daniel Dye | 80 | -0.294 | 41 |
| 4 | 29 | Sean Corr | 80 | -0.528 | 41 |
| 5 | 55 | Gus Dean | 80 | -0.977 | 39 |
| 6 | 73 | Andy Jankowiak | 80 | -1.235 | 38 |
| 7 | 44 | Mason Diaz | 80 | -1.465 | 37 |
| 8 | 63 | Dave Mader, III | 80 | -1.480 | 36 |
| 9 | 25 | Toni Breidinger | 80 | -1.577 | 35 |
| 10 | 36 | Ryan Huff | 80 | -1.604 | 34 |
| 11 | 6 | Rajah Caruth | 80 | -1.724 | 33 |
| 12 | 5 | Dale Quarterley | 80 | -1.762 | 32 |
| 13 | 03 | Brayton Laster | 80 | -2.265 | 31 |
| 14 | 3 | Willie Mullins | 80 | -3.790 | 30 |
| 15 | 11 | Chuck Hiers | 80 | -4.377 | 29 |
| 16 | 30 | Amber Balcaen | 80 | -5.283 | 28 |
| 17 | 10 | Jason White | 80 | -10.878 | 27 |
| 18 | 27 | Tim Richmond | 80 | -11.204 | 26 |
| 19 | 18 | Drew Dollar | 79 | DNF | 25 |
| 20 | 2 | Nick Sanchez | 79 | -1 Lap | 24 |
| 21 | 60 | Michael Lira | 79 | -1 Lap | 23 |
| 22 | 35 | Greg Van Alst | 79 | -1 Lap | 22 |
| 23 | 12 | D.L. Wilson | 78 | -2 Laps | 21 |
| 24 | 06 | Zachary Tinkle | 78 | -2 Laps | 20 |
| 25 | 01 | Benny Chastain | 78 | -2 Laps | 19 |
| 26 | 57 | Bryan Dauzat | 77 | -3 Laps | 18 |
| 27 | 07 | Brian Kaltreider | 76 | -4 Laps | 17 |
| 28 | 48 | Brad Smith | 76 | -4 Laps | 16 |
| 29 | 0 | Con Nicolopoulos | 76 | -4 Laps | 15 |
| 30 | 69 | Scott Melton | 75 | DNF | 14 |
| 31 | 42 | Christian Rose | 73 | DNF | 13 |
| 32 | 32 | Max Gutierrez | 63 | -17 Laps | 12 |
| 33 | 94 | Bryce Haugeberg | 61 | -19 Laps | 11 |
| 34 | 97 | Jason Kitzmiller | 51 | DNF | 10 |
| 35 | 68 | Will Kimmel | 50 | DNF | 9 |
| 36 | 7 | Eric Caudell | 21 | DNF | 8 |