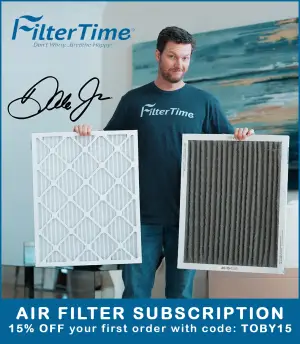 Freedom Warranty, identified as the fastest-growing vehicle service contract administrator in the nation, has renewed its sponsorship of NASCAR Camping World Truck Series driver Spencer Boyd ahead of the 2022 season.
The company will adorn Spencer Boyd's No. 12 Young's Motorsports Chevrolet Silverado in a pair of NASCAR Camping World Truck Series events this season, while also serving as a full-season associate partner of the Missouri-native's efforts.
"We have become very close over the years," Boyd said of the leadership group at Freedom Warranty.  "I go to the Christmas party every year as if I am an employee and get to catch up on what's happening with their families.  They are a hard-working group and I want to make them proud every time I'm out there on the track."
Freedom Warranty made its first appearance on Boyd's truck when the driver clinched his only NASCAR Camping World Truck Series victory at Talladega Superspeedway in 2019.
"We believe in what Spencer is doing with his career, so want to support him in his efforts," said Chris Miller, CEO of Freedom Warranty.  "Our goal is to help protect one of peoples' most valuable items, their cars.  Whether they reach out directly or sign on through their dealer, we want NASCAR fans to know about our service and how it can help them."
The sponsorship schedule for Freedom Warranty on Boyd's No. 12 truck was not included with the announcement.