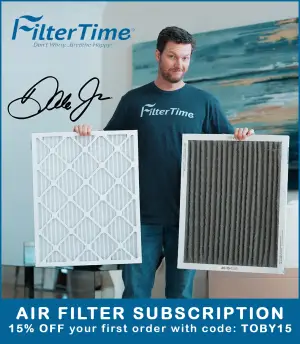 NASCAR Trucks DFS and Betting Preview for Martinsville: After an eternal hiatus, trucks are finally back! The United Rentals 200 on Saturday will have us back on #WakeUpWithTrucks. There's no better way to kickoff the weekend than starting it with trucks.
The DFS and betting slate is a tricky one considering the sample size for short tracks this season is small. Other than Martinsville, Richmond and Bristol Fall are virtually the only areas of study to attempt to determine who's gonna have what on Saturday.
Bristol is tough to use as a metric because it is so vastly different from Martinsville due to the polar opposite banking and level of speed. Martinsville compares much more to Richmond because of hard braking and having a flat surface. Richmond is much more forgiving than Martinsville, however. There truly is no track on the schedule that compares close enough to Martinsville.
In 2020, this race was won by Grant Enfinger in a thriller. He punched his ticket to the Championship 4 that day. This weekend, he faces entirely different circumstances as a non-playoff driver. Enfinger in the #98 has been super impressive on short tracks over the years.
John Hunter Nemechek and Ben Rhodes have nearly mathematically clinched their spots in the Championship 4 based on points. They just need to survive the race to advance. Everybody else: it's a free-for-all. Nemechek is a former winner here in the trucks, and Rhodes has three Top 5's in his last four races here.
Sheldon Creed led 65 laps here last season en route to a 7th place finish after suffering a flat tire in the middle of a green flag run and getting spun out after retaking the lead with about 20 laps to go. Before that, Creed had opened up nearly an 8-second lead over 2nd place in a green flag run. Creed only has a 5 point cushion on the Championship cutoff in the points standings.
Last year we were under the lights. This year we will race in the daytime. Different track conditions, same intensity.
Let's get right into it.
Ladies and Gentlemen,

This Halloween, A Legend Returns. You thought he was gone. He was just at the next best party.

Martinsville. Halloween.

Garage Guys Tailgate Party: Saturday night after Xfinity. Halloween costumes welcome.

Just be there. We're goin' all-out. #NASCAR pic.twitter.com/lDL5uqdyyE

— dale tanhardt (@daletanhardt) October 28, 2021
NASCAR Trucks DFS Martinsville Picks for DraftKings
Sheldon Creed: #2 GMS Racing Chevrolet – $10,300
When the money is on the line, Creed is the guy. That's all I need to know.
But seriously; his truck was so dominant here last year. He overcame going laps down after suffering a flat tire under green-flag conditions (difficulty level- 10/10), he raced all the way back to the lead and got wrecked, and came back and finished 7th.
The price here is interesting. DK has several guys that are being valued extremely high because of place-differential potential. Opens the door to grab Creed at a relatively cheap price.
The strength of this team in 2021 has certainly been on the "shorter" tracks. Creed swept and won both Darlington races, dominated Gateway, and dominated Bristol before getting dumped with a handful of laps to go.
The writing is on the wall. When the money is on the line, go with Creed.
Grant Enfinger: #98 ThorSport Toyota – $9,700
Pretty shocked about this price.
In four of his last five races at Martinsville, Grant has finishes of 4th, 7th, 4th, and 1st. On short tracks in 2021 in the #98, he has finishes of 2nd at Bristol and 8th at Richmond- Enfinger ran Top 3 nearly that entire race and led 71 laps.
In three starts at short tracks in 2020, Grant recorded an average finish of 2.6. The short-track skills of Enfinger and performance of the ThorSport program of the #98 are top-tier.
If there's a playoff spoiler on Saturday, don't be surprised if it's Enfinger (or my next write-up). For DFS purposes, the price of $9,700 is shocking to me because he starts 15th and has such an impressive resume along with speed here. He very well might be in optimal lineups by the end of this race.
Johnny Sauter: #13 ThorSport Toyota – $10,900
Amongst Kligerman, Berry, and Sauter, I think Sauter is the best play. Sauter led 39 laps here last year and almost ran away with this race before Carson Hocevar took him out due to staying out while the leaders pitted and restarting on old tires.
Sauter is a 4-time winner at Martinsville, believe it or not. The stats don't lie even as of recent. Sauter has three Top 10's and two Top 3's in his last five starts here.
On short tracks this season, Sauter has finished 5th both times.
Let's face it: old man Sauter is running out of time. Two consecutive years of disappointment in the points along with no wins has me believing we could be seeing the end of Johnny in a full-time capacity. This could be his last chance at a victory.
Sauter starts 22nd and provides major upside with all this considered. I love Sauter on Saturday.
Spencer Davis: #11 Spencer Davis Motorsports Toyota – $7,100
There's always drivers in this race that start back in the 30's that find their way into the Top 20 due to the mayhem that Martinsville so kindly provides. In this slate, I'm tempted to stay away from most of them.
But Spencer Davis is the one guy that sticks out. The #11 has finishes of 16th and 23rd on short tracks this season. Davis drove the 11 the 16th place-finish at Richmond earlier this year. Clay Greenfield drove the other.
At Martinsville, Davis has finishes of 20th and 33rd. But that's not the most important metric for me here.
In a part-time season, Davis has finished in the Top 30 in every one of his starts in 2021. He has four finishes of 22nd or better in seven starts this year.
I like consistency, and that's what this driver typically offers. With a starting spot of 36th, the floor is low and the ceiling is very high. I could see a Top 15 out of Davis on Saturday. Book Davis as my top punt play.
Other punt plays that I like:
Colby Howard – $6,400
Derek Kraus – $6,800
Dawson Cram – $5,500
Austin Wayne Self – $5,700
NASCAR Trucks Best Bets
To Win:
Sheldon Creed +400
Ben Rhodes +1200
Grant Enfinger +1000
Top 5:
Ben Rhodes +100
Longshot
Johnny Sauter +1500
H2H:
Ben Rhodes over Josh Berry -135
Don't forget to swing by Hooters and take your meal on the go with Hooters To Go: