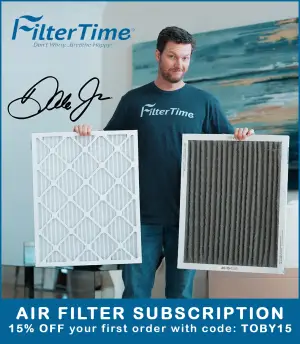 For the majority of the 2021 NASCAR Cup Series season, the scuttlebutt had been that Aric Almirola was fighting for his job and his life as a big-league race car driver. As Almirola was struggling through the worst season of his career, an opportune win at New Hampshire Motor Speedway flipped the script and locked him into the Playoffs.
Naturally, people wanted to know if that had secured the 37-year old driver a place at Stewart-Haas Racing for 2022.
Well, as far as Almirola is concerned, nothing has changed for him this year, as he's already been locked into a multi-year deal, which he implied extends into next season.
"Yeah, I've had a multi-year contract for a while now, so we don't disclose all the contract terms to all of you guys because all you'd do is ask every year anyway," Almirola said in a media availability on Wednesday.
Attempts to confirm Almirola's contract status with Stewart-Haas Racing have gone unanswered at the time of this story publishing, but it will be updated if and when there is a response.
But, if SHR does indeed have a multi-year deal with Almirola in place and they plan on honoring it, the move would make sense.
Since moving to Stewart-Haas Racing in 2018, Aric Almirola has scored two wins, and he has secured a berth in the NASCAR Cup Series Playoffs in each of his four seasons with the organization.
Aside from Kevin Harvick, there is a lack of experience in the NASCAR Cup Series on the SHR driver roster, as Cole Custer (in his second year) and Chase Briscoe (a rookie contender) make up the rest of the lineup.
The Florida-native also said on Wednesday, that he feels his longtime sponsor Smithfield Foods will return with him next season for an 11th-year.
"So, [winning] certainly helps, but we're going on 10 years of a wonderful relationship with [Smithfield]," Almirola explained. "I look forward to continuing that for many more years. Winning always helps."
With a lot of the pieces of the 2022 NASCAR Silly Season puzzle coming together already in August, as Ross Chastain was named the second driver for Trackhouse Racing in 2022 on Tuesday, it looks like the No. 10 Stewart-Haas Racing ride is one that is potentially locked up for next season as well.