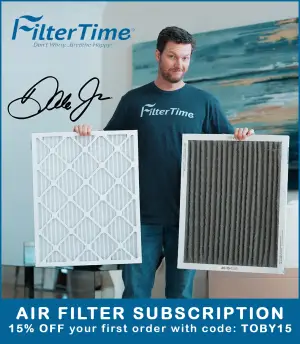 Much of the Silly Season attention has been solely placed on the NASCAR Cup Series, with many big-name drivers finding new rides for next season.
However, the Xfinity Series silly season is getting kicked into gear with the latest news coming from Martins Motorsports.
Tommy Joe Martins revealed in an exclusive interview with TobyChristie.com that he will scale back his personal driving efforts to a part-time schedule next season in Xfinity. Instead, the No. 44 Camaro will feature a handful of drivers that will pilot Martins' lone entry in the series. The news for the team is not a signal of panic or distress, but it's what the Mississippi driver believes is the right step to help grow the organization.
"We're maxed out with what we're doing," Martins said candidly to TobyChristie.com. "I feel like to go to the next level, or even to stay at the level we are at, it's probably going to take more than what I can bring to the table as a driver. We're going to need some other people that want to buy into what we are building here."
In what Martins teased as a "handshake agreement," one new driver is already expected to pilot the No. 44 for at least three races in 2022, with that announcement coming next month. The 34-year-old did not disclose who the driver is but mentioned that the mystery driver will be brand-new to the Xfinity Series and is currently spending their time in one of the three ARCA Racing Series. Martins has seen this driver in action at local tracks and has been impressed with this driver's performance this season. Martins' energy surrounding this driver is palpable and will be a key stepping stone for this driver's career and Martins Motorsports in 2022.
As far as the rest of the roster goes, Martins is actively searching for new names to put above the driver's door on his No. 44 entry for 2022. However, with silly season beginning to unravel more, Martins felt it was key to get the news out early that the No. 44 car is open as other drivers may be on the move. Only two drivers (including Martins himself) are confirmed for 2022, with more spots being needed to be filled.
"I think with the way we've performed this year; I'm going to get an opportunity to be pretty selective about who we put in the car. I really want people who can go up there and compete for top 20's week in and week out."
The plan is straightforward for the team in 2022; break the season up into chunks, packaging deals by types of tracks – short tracks, superspeedways, road courses, and intermediates.  Martins has already found his comfort zone and plans to maximize his skillset on a specific selection. Tracks including Bristol, Darlington,  Nashville, and (if this ever occurs), anything on dirt would fit Martins' taste well.
Sponsorship for specific tracks will also help determine the schedule for Martins. SuperMega, a wildly popular YouTube comedy channel that backed Martins earlier this year at Charlotte,  has expressed interest in returning to the No. 44 for a race on the west coast in 2022. With potential track-specific deals from longtime partners Gilreath Farms and Diamond Gusset Jeans, Martins wants to represent those sponsors well at their respective home tracks.
"I definitely think that my strengths have probably been mostly on the mile and a halfs, some of the short tracks," explained Martins. "I like to think of myself as a pretty good, all-around racer."
The No. 44 Camaro remains for 2022, as Martins confirmed that the team would remain with Chevrolet. Being from a family of Chevys, Martins has enjoyed a great relationship with ECR and Fisher Brother Engines and reaffirmed the commitment to both parties for the future. The No. 44, with plenty of family history, will also stay with the team for the future.
So as far as the rest of the roster goes – what are the expectations and requirements for the seat? Martins is eying at least four to five drivers for the No. 44 car in 2022. Martins noted that even more drivers could be more beneficial financially. Still, from a team chemistry and shop standpoint, it can be challenging for a team to get into a rhythm, especially for a small team like Martins Motorsports. With one young driver already confirmed for the team, Martins is looking for an Xfinity newcomer, as he previously teased and confirmed, a road course ringer, another young driver with a mixture of Truck and Xfinity experience, and a speedway-centric driver. Each driver, best-case scenario, would take up roughly six to eight races.
"I look at a guy like Andy Lally, if you can get a guy like that, to come in with road course sponsorship…and how much better does that make your team? In the standings, for him, and us – it works out great for everyone."
Martins is seeking to figure out how to make the No. 44 car even better than where they sit right now as an operation. But another key to the equation will be funded drivers. To do the things Martins wants to do with the organization in the future – funding is needed. Martins said that the "guillotine is like constantly hanging over your neck" when running a small team the way Martins does. The business is stressful, from figuring our sponsorships/renewals to travel and logistics for the necessary team members. Bringing in funded drivers would help bolster the budget for Martins Motorsports and bring some concrete stability from a financial standpoint.
As Martins explains, "My guys are driving to a lot of the races,  we're flying commercial, and having to stay overnight at places two extra days, and we're losing out on time at the shop. We can't afford to fly a Champion Air flight that would fly in the day of and fly back the night of. So all these things are saving money, and we're doing it the way we are doing it, and we're running really well…but it's really, really hard.
"We're basically operating on half the budget of the teams that we are racing around now in this part of the field," Martins said. "And half is being really polite."
Martins describes the 2021 season as taking what is essentially a partial season of funding from partners, including AAN Adjusters and Gilreath Farms,  and stretching it out across an entire Xfinity Series season. To make up "some" of the difference, top 20 and top 15 performances are what the team needs.
Martins spoke highly of several young, up-and-coming drivers in May following a previous interview with TobyChristie.com, where Martins mentioned that a new driver might be key for the team's future. Some drivers across the trio of ARCA Series fit this bill, including pumping in their own funding into their rides.
The future success of our team isn't TJM as full time driver. I want @TeamMartins to be the @woodbrothers21 of @XfinityRacing. Family owned, small, competitive.
Impressed this year by@KazGrala @rajahcaruth_ @CarsonHocevar @AustinWSelf @gracietrotter11 @Nicksanchez080 https://t.co/tdHfWkt59f

— Tommy Joe Martins (@TommyJoeMartins) May 26, 2021
"There is a lot of talent out there, and I feel that we've shown that we are a competitive Xfinity program, and I think that is going to be attractive," Martins said.
Martins Motorsports has been on a steady incline on performances compared to last season. After 19 races in 2020, Martins sat 23rd in points with seven finishes within the top 20. In 2021 after the same number of races,  the No. 44 Camaro has 11 finishes in the top 20 and is currently sitting 19th in points. That statistic includes an 11th place finish at Talladega this season, marking the team's best finish of 2021. From a driving standpoint, Martins feels the last six months have gained him more notoriety than his entire driving career.
With the eyes of incoming young drivers diverting towards the larger teams, Martins said he felt that the No. 44 car and other smaller teams in Xfinity are often overlooked as a landing spot. However, Martins thinks that this may turn the tide in that belief with this news being revealed.
"This seat is going to be open for about half the season now that we are looking into and sell and get some other drivers in the car."
As Martins has already planned, the loss of seat time in Xfinity is not a signal he's hanging up his helmet. With nearly every dollar he's ever raised towards NASCAR, bringing in funded drivers with their own sponsorship means that Martins could take his sponsors such as Diamond Gusset Jeans to other racing ventures.  Martins has his eyes set on endurance racing, from those at six hours in length to even longer. The sight of other NASCAR drivers hopping into other machinery is causing the Como, Mississippi native to get the itch to test the waters elsewhere.
"Ryan Ellis has been really bugging me to go hop in a midget, which I think would be absolutely hilarious to see me driving one of those," Martins chuckled."Dirt is something that I think is really cool."
Martins told TobyChristie.com that he even had to turn down other driving opportunities in the NASCAR Camping World Truck Series because Martins' sponsorship dollars needed to help fund the No. 44 Xfinity car. Bringing in a funded driver with their own sponsorship would open many more doors for the Mississippi driver to have some fun.
Reflecting on what Martins calls his own selfishness, driver No. 44 is incredibly excited for what August will bring for the team. But, with the impending announcement, the spotlight for the team will move away from Martins to shine brightly on the young talent the team is ready to harness.
"When we make this announcement next month, I feel like I'm getting to kind of experience something with somebody else for the first time. It will be his first time in a NASCAR race, and it will be with us in something that we built. I think he is going to go on to have an incredible career. The fact that we are the ones that are getting the chance to debut with him next year – the sky is the limit there."
Martins says that he feels comfortable stepping back from full-time driving to benefit the team. The story of Martins Motorsports is not all about Tommy Joe Martins anymore – it's about the bigger picture and the future of the operation.
The announcement, thought to be personally bittersweet for Martins, is one that he sees more as an opportunity. He's ready to transition into the next part of his racing career – one that will bring more time to managing Martins Motorsports and the chance to take his talent to new avenues of racing. The smile on Martins' face as he says there are "concrete plans" in place heading into the winter for the first time shows the driver/owner is elated about the team's future.
As Martins puts it, "It's whatever is going to be best for us, as a team."