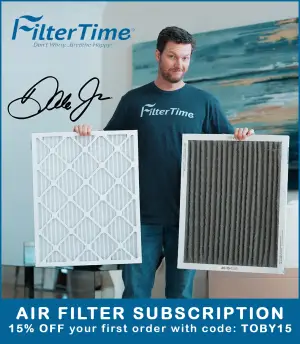 Wisconsin native Josh Bilicki is looking to have a solid performance in his home state when NASCAR visits Road America next month, and he's got a full schedule ahead for the weekend.
Bilicki confirmed on Thursday that he will join SS Green Light Racing for an Xfinity Series effort at the 14 turn road course in July for the Henry 180.
Longtime partner Insurance King will hop on board the No. 07 Camaro with Bilicki, who lives just shy of an hour from Road America.
My Fourth of July weekend at @roadamerica just got a whole lot busier! Excited to drive for @SSGLR0717 in next Saturday's @NASCAR_Xfinity Series race, in addition to the Cup race on Sunday. I feel we have a strong car that can fight up front! https://t.co/TSQLv2TpKj pic.twitter.com/6S3CFJlrsm

— Josh Bilicki (@joshbilicki) June 25, 2021
"Bobby and the SS Green Light Racing team has built me a good car for my home race, and I know that I can use my thousands of laps and experience at Road America to my advantage," Bilicki said in a media release.  "To get a good finish at Road America requires a good car, engine, and pit crew, and this year we have checked all those boxes, with the help of several local Wisconsin partners.  Between the Xfinity Series on Saturday and the Cup Series on Sunday, I really feel that we can bring home great finishes in both."
Bilicki will pull double duty, as he is scheduled to drive the No. 52 for Rick Ware Racing in the NASCAR Cup Series.
The scheme, naturally for the Fourth of July weekend, will be a patriotic design that came from the creative mind of Cosmin Ioaneșiu.
"The main idea behind the design was to incorporate faded stripes and stars together while also giving all the sponsor areas room to breathe and proper exposure,"Ioaneșiu told TobyChristie.com. " Together they make the car look fast while standing still. Every year between May and July is my favorite period for paint schemes because most teams bring out their patriotic colors and they never disappoint."
Living in Vienna, Austria, it'll be the first design of Ioaneșiu's to hit the track in his career.
We love giving designers a shot to see these cars on track, much like we've done with @hershydesigns and @J_Cal_Designs. We saw this scheme posted on here yesterday and timing just worked perfectly. Happy to give you your first shot @Cosmin_Ioanesiu 💪 https://t.co/LY6uSwC291

— Josh Bilicki (@joshbilicki) June 25, 2021
"Thanks to Josh Bilicki and Insurance King for the chance to contribute to the sport I've loved for a long time. I saw an article in an old auto magazine back in either 2001 or 2002, and I've been hooked ever since," Ioaneșiu said.
In addition to Insurance King, Wisconsin-based companies Professional Plating, Custom Fiberglass Molding, and Allied Insulation Supply Co. all join the No. 07 Camaro.
Fans can see the No. 07 hit the track on Saturday, July 3rd at 2:30 PM ET on NBC.