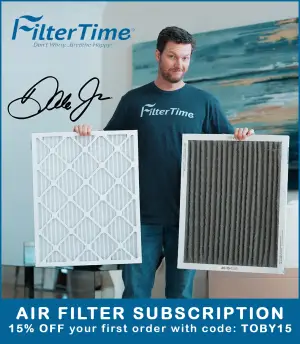 Doug Coby is not a full-time driver on the 2021 SRX Racing Series roster, but the six-time NASCAR Whelen Modified Series champion snagged the victory in the first-ever race in series history on Saturday night at Stafford Speedway. Coby, who earned entry into the event as being labeled the local track hero, held off Greg Biffle, who won Heat 1, for the race's Main Event win.
"Man, what a special night for short track racing in America," Coby said. "This is a special night for Stafford Speedway and everybody who is a short track racer across the country, whether you're dirt or asphalt."
Doug Coby, a local all-star, becomes the first ever winner in @SRXRacing and he dedicated the race to his close friend, Don King, who passed away earlier this week and was pivotal in getting Coby into racing. pic.twitter.com/UTKMeTlIjq

— CBS Sports (@CBSSports) June 13, 2021
Tony Stewart came home third, Helio Castroneves — who won the 2021 Indianapolis 500 — finished fourth and 2000 NASCAR Cup Series champion Bobby Labonte finished fifth.
Ernie Francis Jr., Tony Kanaan, Willy T. Ribbs, Paul Tracy and Marco Andretti rounded out the top-10 finishers.
Michael Waltrip and Bill Elliott finished 11th and 12th. Waltrip suffered damage, which ended his race early, while Elliott suffered a mechanical failure.
Overall, the opening race for the SRX Racing Series seemed to be a total success. The broadcast on CBS Sports was perfectly balanced between racing action and commercials, the on-air talent with Allen Bestwick and Danica Patrick in the booth, Matt Yocum in the pits gave the show a professional feel.
The fans in attendance at Stafford Speedway were electric, and that electricity was definitely picked up by the at-track microphones during the pre-race portion of the broadcast. The lead up to the race may have been more impressive than the actual race itself, as it set the tone that what you were about to watch was truly important.
The action during the event was intense at times, but potentially the signature moment of the race was a gutsy three-wide pass for the lead by Marco Andretti over Tony Stewart and Doug Coby:
MARCO ANDRETTI ARE YOU SERIOUS?!?!

Andretti makes it three wide and slides into first! pic.twitter.com/DsVVDIcw0i

— CBS Sports (@CBSSports) June 13, 2021
The run-time for the entire show being just over two hours wasn't tiring and it was awesome to see legends from multiple disciplines of motorsports mix it up for nostalgia's sake.
The only downside for me, and from many on social media was a "competition yellow" around the mid-way point of the Main Event to bunch the field up. But overall, I would say the Inaugural race for the SRX Racing Series was a rousing success.