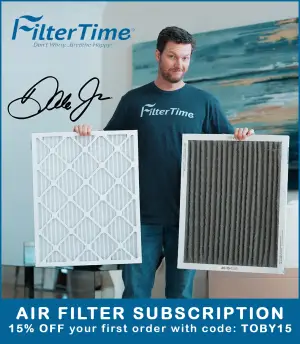 When the NASCAR Camping World Truck Series heads to Circuit of The Americas for the first-time in series history, Spencer Boyd will be celebrating a significant milestone in his NASCAR career with long-time supporter Freedom Warranty.
With the start of the inaugural Toyota Tundra 225 at Circuit of The Americas (COTA), Spencer Boyd will make his 100th career start in NASCAR's top-three series. To memorialize the landmark start, Lionel Racing will be making a special edition diecast of the No. 20 Freedom Warranty Chevrolet Silverado.
"If you asked the 14-year-old me, who somehow convinced his parents to move to Charlotte to chase a racing dram, if I'd be at this point in my career, I might have laughed. Everyone who ever steps into a racecar wants to make it big. I'd like to think that my 100th race is big considering what had to be done to get here, but I've got more goals and I intend to be here for a while."
On April 2, 2016, Spencer Boyd make his NASCAR National Series debut for The Mittler Brothers at Martinsville Speedway, piloting the No. 63 Go-Parts.com RAM. Boyd finished 28th that day, after a crash took him out of the event. From that point five years ago, to now, Boyd has made a total of 55 starts in the NASCAR Camping World Truck Series, along with 41 NASCAR Xfinity Series starts and three NASCAR Cup Series starts.
In 100 NASCAR National Series starts, Boyd has collected a single win at Talladega Superspeedway in 2019, the only win for Young's Motorsports to date. It was on this weekend that Freedom Warranty – the primary sponsor of the No. 20 at COTA — joined the organization as an associate sponsor.