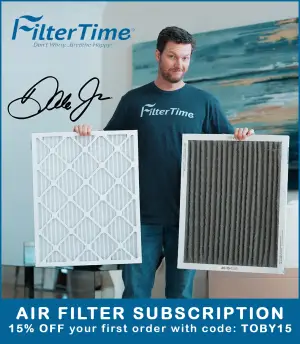 One of the newest members to the NASCAR Cup Series garage will go all the way back to the early 1960s for the Goodyear 400 at Darlington Raceway.
Live Fast, and driver BJ McLeod will honor "Little" Joe Weatherly with a recreation of his No. 8, which won at Darlington, in 1963.
BJ McLeod's @KeenParts throwback car brings 1963 back to Darlington to when Joe Weatherly took the 🏁 at @TooToughToTame to earn his second win of the season!

To learn more about the story behind the paint scheme, click here: https://t.co/sZs6Pgbk9c pic.twitter.com/EUAzai2X8I

— Live Fast Motorsports (@teamlivefast) May 3, 2021
Weatherly, in 1922, raced 12 years in the Cup Series, reaching victory lane 25 times and finishing in the top-ten 153 out of his 230 starts. His career featured two nine win seasons in 1961, and 1962. He won back-to-back Cup Series titles in 1962, and 1963. Weatherly was even a member of the short lived Convertible Series, winning 12 times in 96 starts.
The scheme itself holds a special meaning to one of the founding members of Live Fast – Joe Falk, who grew up with Weatherly as a child.
He's from my hometown in Norfolk, VA, where my father had racecars and would work on Joe Weatherly's car quite often," said Falk. "When I was born, my dad called me Little Joe as a tribute, and when I was small, I would chase him around on my little car. As I grew up, Joe was apart of my life. He was the trophy presenter when I won my heat in the soap-box derby when I was 12 years old."
The memory even spreads to Falk's brother, who was on hand to help Weatherly during his time at Darlington.
My brother is 10 years older than I; he had a stronger relationship with him (Weatherly). My brother was in his early 20s and went to Darlington to see Joe (Weatherly) race and help. He and his friends drove all night, slept in the car and when they went in the garage, Weatherly could immediately tell they slept in the car and said to them, 'If your daddy had seen you, he'd get real cross. Take my hotel key and go clean up," Falk recalled.
Keen Parts will serve as the primary sponsor for the No. 78 this weekend.
"Based on our friendship with Joe Falk, we're happy to see someone important to Joe be recognized during the throwback weekend at Darlington Raceway," said TJ Keen of CorvetteParts.net.
Fans can see the No. 78 hit the track on Sunday, May 9th at 7:30 PM EST on FOX Sports 1 and the FOX Sports app.