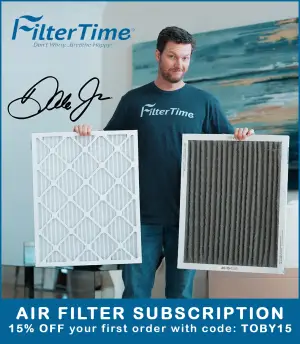 Sure, it is not July 4th weekend just yet, but that isn't stopping Spire Motorsports and Corey LaJoie from spreading some patriotic flair for this upcoming race weekend.
FOX Nation, the subscription-based streaming service from FOX News, will serve as the primary sponsor for LaJoie and his No. 7 Camaro ZL1 1LE for this weekend's Cup Series race at the famed Talladega Superspeedway.
"We're thrilled to have FOX Nation partner with Spire Motorsports for this weekend's GEICO 500 at Talladega Superspeedway," said Spire Motorsports co-owner T.J. Puchyr. "The paint scheme is incredible and we're eager to get down to Talladega and see that patriotic red, white and blue No. 7 Chevrolet Camaro on the race track. FOX Nation is going to provide race fans several amazing opportunities to go behind the scenes with Corey LaJoie all weekend. Corey does a great job on superspeedways and he had a great top-10 run at the Daytona 500. Hopefully, he'll stay out of trouble and make his way to the front when it's time to race for the win. Either way, we're going to have a lot of fun."
To add to the unique partnership, LaJoie and FOX Nation have been sharing a special #RoadToTalladega video series on social media, giving fans some behind the scenes content as he prepares to tackle the famed superspeedway.
.@CoreyLaJoie breaks down the 3 things you may not have known about Talladega! #RoadToTalladega pic.twitter.com/KSLrAnvR1X

— Fox Nation (@foxnation) April 20, 2021
This weekend's race will actually mark the second time that LaJoie and FOX Nation will have a car on track. During Wednesday evening's virtual eNASCAR Pro Invitational Series race, LaJoie drove the No. 7 FOX Nation Camaro home to a 28th place finish. Teammate Justin Haley finished 11th.
In addition to the FOX Nations colors on the car, the paint scheme will also feature a special Autism Awareness decal for Sammy Wilson, an 18-year-old NASCAR fan with autism. He has spent the month of April advocating for teams to run the decal to show support and raise awareness, and Spire is the latest team to join in the effort.
The month of April is #AutismAcceptanceMonth

Thanks for letting us be a part of your mission, @NASCARSammy! 🧩 pic.twitter.com/9YvoA8IODO

— Spire Motorsports (@SpireMotorsport) April 22, 2021
Fans can see the No. 7 FOX Nation Camaro ZL1 1LE hit the track on Sunday, April 25th at 2:00 PM EST on FOX and the FOX Sports app.