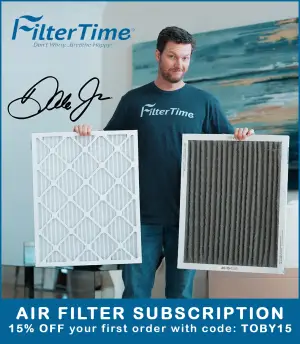 Only five races into the 2021 NASCAR Cup Series season, it's no surprise to see that Hendrick Motorsports, Joe Gibbs Racing, and Penske are finding their footing early on. But much of the anticipation around the upcoming season came with a few different factors. More road courses on the schedule, the final season (as of now) of the Generation Six car, and the addition of three brand-new full-time teams in the Cup garage.
The excitement began in the 2020 season when 23XI Racing was announced with co-owners Michael Jordan, and Denny Hamlin, and their driver, Bubba Wallace. Add in a full season of sponsorship from partners such as DoorDash, McDonald's, and Columbia, plus a Joe Gibbs Racing Alliance, and the pieces are all there for success.
Trackhouse was announced a short time later, with Justin Marks, and later Grammy Award-Winning artist Pitbull joining as co-owner. Right off the bat, two worldwide names joining NASCAR? The excitement was growing, and it wasn't even 2021 yet.
Finally, LiveFast was confirmed in November with former Cup Series driver Matt Tifft and current driver B.J. McLeod joining forces for their own full-time effort in the No. 78 Ford.
So, how are they doing? The Cup circuit has visited a superspeedway, a road course, and ovals – an all-around good palette of tracks to begin analyzing performance.
It's good to keep in mind of also, what each team is working with in terms of parts and alliances.
Trackhouse is working closely with Richard Childress Racing and the Chevrolet camp, with the car being prepared at the shop in Welcome, North Carolina. 23XI Racing is getting their help, as expected, from Joe Gibbs Racing and Toyota Racing Development. While the car is being prepared at their own shop (the former location of Germain Racing), 23XI is receiving chassis', bodies, and engines from Joe Gibbs Racing. This same strategy helped get the now-defunct Furniture Row Racing into their winning ways in 2017, eventually leading to the team's only championship in 2017. As for Live Fast, a "strategic partnership" with Stewart-Haas Racing is in place, with the team acquiring roughly a dozen Mustangs from the Kannapolis team in the offseason.
So each manufacturer of Chevrolet, Ford, and Toyota has their share of freshmen to the Cup garage.
Starting off with the 2021 Daytona 500, 23XI was making headlines pre-race for all the wrong reasons. The car failed inspection prior to the race, leading to a crew member ejection. Then, just three laps into the race, Bubba and Derrike Cope rubbed some fenders, giving Bubba a tire problem, and rear fender damage.  Trackhouse saw a very early exit after the massive turn 3 crash. Superspeedways cannot really dictate the performance of one team for an entire season, with those styles of races being such a wildcard. Suarez finished 36th, while 23XI finished best with a 17th, and LiveFast keeping a quiet, but clean race with a 23rd place finish.
The Daytona road course is on the same track, just a very different layout. Trackhouse appeared to be a solid competitor, leading some laps and coming home 16th, even after their driver drove with a vomit-filled helmet home to the finish. Live Fast brought in Scott Heckert to pilot the No. 78 to a 28th place finish, and Bubba, after rolling off tenth, brought his 23XI Camry to a 26th place finish after finishing Stage one in 21st, and stage two in 38th. He pitted later in the race for an overheating issue, and also got 23XI a speeding penalty, forcing a drive-thru penalty.
Down the coast to Miami, and two of the three new teams almost ended their day just after the green flag. Wallace got caught up on the initial start and Suarez drove right into the bumper, giving the debut race for the Camping World Camaro some left front damage. The team later pitted to fix the damage, while finishing Stage one and two just outside the top-20. That wouldn't matter as the team would end up finishing 15th, the best finish of all three teams to date. Wallace looked to be improving mid-race with a 13th place finish for stage two but ultimately settled for 22nd. Live Fast had some gear and steering issues just after the race went green, putting them in a hole early on into the Dixie Vodka 400. The team ended up salvaging a 34th place finish.
Next, the Cup Series moved out to the west coast and a stop at the Las Vegas Motor Speedway for the Pennzoil 400. Immediately in Stage one, 23XI had to fight power steering issues and that forced the debut for Columbia as a sponsor to sit on pit road, losing laps to the leaders. Thanks to these issues, Bubba didn't really have the ability to become a serious competitor, and his stage finishes of 38th, 34th, and 28th, are not anything to be proud of. Still, this is a new team, new people, and a new car to learn – there are sure to be growing pains like this. Trackhouse had a better performance statistically speaking, leading 12 laps in the final cycle of green-flag pit stops. After sustaining some damage from on-track contact, Trackhouse was able to finish 26th after starting 22nd. Live Fast, once again, logged the laps they needed, and finished 30th, seven laps down. The team fought splitter issues early on in the race.
Finally, we move to Phoenix for the Instacart 500, a track that teams prioritize hence the venue serving as the final stop of the season. Bubba Wallace was looking to have a career-best finish after a relatively clean race, besides some contact with Ryan Newman. After a late-race restart on old tires, he drifted back and ended up helping Cole Custer into the wall. Even with some minor damage, Bubba got his 23XI Toyota home 16th. Both Trackhouse and LiveFast had a relatively quiet race, finishing 21st and 30th respectively.
Overall, according to the TobyChristie.com Incident Tracker, 23XI has been involved in at least one on-track incident in every race this season, while Trackhouse has only been involved in two, and LiveFast and BJ McLeod haven't had any wrecks, pulling ahead as the team with the cleanest record thus far.
---
Trackhouse, 23XI Are Oh So Close
You probably were not expecting to read that headline five races into the season.
When it was confirmed that Joe Gibbs Racing would have a major alliance with 23XI Racing, many fans probably thought the team would be an instant competitor. After all, the backing of Michael Jordan, the partnership with one of the more dominant manufacturers in recent years, it seemed like it was all perfect. But Bubba hasn't driven a TRD-powered car in a number of years. Every chassis, engine, and car is a different beast to tame for not only the teams but the drivers too.
Diving deeper into some of the statistics, both drivers recorded one DNF, both coming at Daytona in the 500. Trackhouse has led eight more laps with a season-best of 12 at Las Vegas, and 23XI leading their personal best of four at Phoenix. With the points still expected to fluctuate early in the season, 23XI went from seventh in the standings and has been declining every race down to 20th, before reaching 19th this past weekend in Phoenix.
When it comes to their average finishes, 23XI is just one position better than Trackhouse at 21.8. Out of all three teams, Trackhouse has the best finishing position of 15th coming at Homestead just a few weeks ago.
From a personal perspective, I've been expected to see 23XI shine more than Trackhouse, but that has not been the case. That TRD power has been a proven winning and championship-caliber engine package, but the new Chevrolet power unit isn't a slouch either. Every manufacturer has won this year at least once with Chevrolet and Toyota winning two races, and Ford winning the season opener at Daytona.
When it comes to comparing both starting and finishing positions, Suarez finished better than where he started three times at the Daytona road course, Homestead, and Phoenix. 23XI has some work to do as they've finished worse than their starting position at all but one race in 2021, at the most recent weekend in Phoenix.
By no means am I signaling that 23XI is in trouble, but they probably are not where they want to be, and having a Joe Gibbs Racing alliance adds instant pressure to perform. After driving for Richard Petty Motorsports, Bubba made a major leap from an equipment perspective. Fully sponsored, Toyota power, and an alliance with one of the best teams in recent years. These things take time to mesh and to build the team chemistry.
---
What About Last Season?
Speaking of, what about this time last season for all three drivers? Keep in mind, the COVID-19 pandemic brought the season to a grinding halt this year, so the fifth race of the year didn't take place until later on.
Starting with Bubba, he spent a number of years with Richard Petty Motorsports, in the Chevrolet Camp. His best finish after five races in 2020 was sixth at Las Vegas, already besting his best finish with 23XI this year. Even besides that, his second-best finish of 15th in the 2020 Daytona 500, is still better than his best finish this season, albeit only one position. Richard Petty Motorsports had help from RCR and Chevrolet, but not the level of support of 23XI and JGR. Additionally, sponsorship was always an issue for Bubba and the team. After he took a public stance on the confederate flag, it seemed that his popularity among NASCAR fans began to rise, and all of a sudden, sponsors began knocking on the door. Cash App, DoorDash, and Columbia all signed on for multiple races each, with two of those moving to 23XI and DoorDash becoming the anchor partner.
Suarez's finishes were nothing to get excited about with his short time at Gaunt Brothers Racing. He spent the last three seasons with three different teams and manufacturers. Joe Gibbs Racing and Toyota were his home for a number of years before everything changed in 2019, moving to the Ford camp and Stewart-Haas Racing. Following that brief stint, he re-joined the Toyota camp with Gaunt Brothers Racing. It was a gamble he was willing to take, to start from the bottom and rebuild himself with a new team. Four of the first five races for Suarez in 2020 were finishes below 25th, with a best of 21st at Phoenix. This shouldn't really come as a surprise with the equipment he was racing, but this was certainly a telling sign that he was in trouble after racing with top organizations and then moving down in terms of performance level.
As for B.J. McLeod -what didn't he race in 2020? Already balancing an Xfinity operation, he spent a majority of his time in the second series racing for JD Motorsports. He had a part-time Cup schedule, likely to prepare him for what would come this season. Multiple issues plagued B.J.'s initial start, including his Daytona 500 start in the No. 52. Back-to-back races at Darlington result in finishing 39th due to an engine issue, and 36th. Both Charlotte races saw an improvement with 32nd and 35th respectively.
Overall, all three drivers are inarguably better equipment than 2020, so their performance is expected to be better. Expected, being the keyword. As I said earlier, there are always growing pains with new teams. New people, new cars, new technology, and new challenges. You shouldn't expect any of these three teams to win early in 2021. But with 23XI working with JGR, Trackhouse with RCR, and LiveFast working with Stewart-Haas Racing, all three drivers are eyeing better results than 2020.
---
Final Thoughts
With only five races in the 2021 season complete, this doesn't mean that this is how their seasons are going to go. Although, they've offered a good insight into how 23XI, Live Fast, and Trackhouse could perform in the future. With superspeedways, the great equalizer, and multiple new road courses on the way, the 2021 season will throw everything but the kitchen sink at new teams.
As I mentioned earlier, I fully expected 23XI to be at least in contention at some level, but we haven't seen that in 2021 just yet. When it comes to the playoffs, I personally think that Bubba will have to race his way in on-points, but the superspeedways could be a place where Bubba and 23XI earn their first win as an organization and his first career Cup win. As for Trackhouse, I could see some great finishes helping their points position, but I do not see them making the playoffs in 2021, however, I'd be more than happy to be wrong on that one. Live Fast is being quietly consistent this season so far, but running in the 30s won't get you into the playoffs. But that's not Live Fast's goal. This is a brand new team that is going to start from the ground up, and the Playoffs are not in their expectations. It's all about logging laps, getting familiar with the Ford engine package, and bolstering their at-the-track program for the future. This is a long-term haul, not a short-term squeeze.
Should a team not perform to their standards in 2021, one thing to keep in mind is that the Next-Gen car is on its way for 2022. Every team will be on equal ground come next year, so the new teams will be leaning hard on their respective alliances to get them up to speed, and fast.