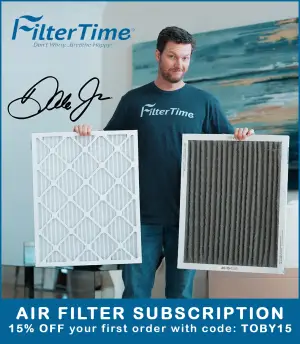 Robby Lyons will drive for MBM Motorsports in the NASCAR Xfinity Series season-opening Beef. It's What's For Dinner. 300 at Daytona International Speedway. On Friday, the race team announced that Lyons will drive the No. 61 machine in the event with sponsorship for the effort coming from Carr and Sons Masonry, a local Florida business. Carr and Sons Masonry also sponsored Lyons' effort in last season's Xfinity race at Daytona.
Lyons, 32, has made five starts over the last two seasons in the NASCAR Xfinity Series, and for the Seminole, Florida-native, racing at Daytona on the high-banks is about as big of a deal as it gets as going to Daytona has been a family tradition for more than 40-years.
"My dad went to his first Daytona 500 in 1973 and hasn't missed a single one since then, Daytona was all I ever dreamed about as a kid, Christmas was even second to Speedweeks over there at the beach," Lyons explained to TobyChristie.com. "As a 5th generation Floridian from Clearwater who grew up watching his dad nail shingles on roofs while barely being able to rub two pennies together to feed a family of 4; all the way to building 18 story hotels today, I can tell you that we dream big, and our faith is even bigger. My dream, my ultimate goal in life was just to race once at Daytona, in anything!"
Lyons has made one NXS start at Daytona, which came a season ago. Lyons scored a career-best 17th-place finish in that attempt. Lyons has also started two NASCAR Camping World Truck Series races at Daytona, recording a best finish of 13th in 2018.
While it's never a guarantee with a large entry list, like is expected next week, that you'll make the field at Daytona — see Ross Chastain and AJ Allmendinger in their qualifying attempts for the Xfinity Series season-opener last year — Lyons stands a decent chance of making the field for the race if he has to fall back on MBM's owner points from a season ago.
Remember last season, Timmy Hill finished third in this event driving the No. 66 machine for MBM Motorsports. If Lyons could pull off the upset and finish top-five, or even win the race, it would be an incredible feel-good story. But for Lyons, it would all just be icing on the cake at this point in his career, which has gone farther than he ever imagined.
"In my mind, I've done everything I could have ever dreamed of, from here on out I'm just enjoying every minute of every opportunity, and until the staircase ends or I run out of the time God gives me, I'm going to keep on climbing," Lyons said. "If there's a stop in victory lane along the way though, I wouldn't feel too bad about taking a break and sitting on that step for awhile either."
Lyons tells TobyChristie.com that while this is currently the only race he has scheduled with MBM, there is, "More on the table," but that he wants to get a feel of the organization at MBM Motorsports and decide how he wants to proceed in 2021. But Lyons has Homestead targeted as his next potential start for the team, if not there, perhaps Las Vegas and Phoenix.