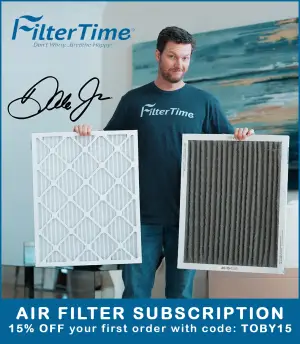 Larry's Lemonade – a Yorktown, Virginia-based brewing company — will return to Brandonbilt Motorsports as a multi-race primary sponsor of driver-owner Brandon Brown's No. 68 Chevrolet Camaro, beginning with the season-opening Beef. It's What's for Dinner. 300 at Daytona International Speedway.
"I'm ecstatic to have Larry's Lemonade back on board our No. 68 Chevrolet Camaro for the second year-in-a-row," said Brown. "The competitiveness of our No. 68 program in 2020 was the best that it's ever been and that's all because of great partners like Larry's Lemonade. The success that we've already had together is a great precursor for what's to come." Brown continued by saying, "I'm honored that everyone at Larry's Lemonade believes in our team and I'm excited for the chance to be able to put them in Victory Lane this season."
Working together in 2020, Brown and Larry's Lemonade scored two top-10 finishes and led multiple laps, while scoring the organization's first NASCAR Xfinity Series Playoff berth, ultimately finishing 11th in points.