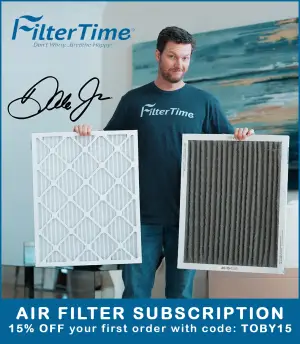 In his retirement from full-time NASCAR Cup Series competition, 2000 NASCAR Cup Series champion Bobby Labonte has stayed very busy. He's raced in the NASCAR Euro Division, he's become very involved on the eSports side of things and now at the age of 56, he's ready for a new challenge.
Labonte will drive in the Southern Modified Auto Racing Teams Tour during the 2021 season and he'll drive the No. 25 machine for Team 25 with sponsorship from fast food chain Cook Out.
The Texas-native drove for Team 25 last season at Florence Speedway and all he did was set the track record in qualifying for the pole before going on to finish a stout fourth.
"I can't wait to get behind the wheel of the 25 car again, and I'm thrilled to partner with Cook Out to take on the S.M.A.R.T. Modified Tour," said Labonte in a press release. "I've got a great-looking car, a sponsor that I truly enjoy and a terrific team. This is just about perfect and we're excited to go out there, race hard and have some fun along the way!"
Labonte had planned on running more modified races in 2020, but COVID scrapped his plans. Now, he's ready to get to work.
"The race in Florence was awesome and everyone with Team 25 is top notch," said Labonte. "I really like the way the car is put together and the way the team operates. The experience at Florence got me thinking and talking with the team, and we decided to do this together for the 2021 season."
For Team 25, the chance to work with a legend of the sport is — simply put — special.
"We're so excited that Bobby is going to drive the 25 car for us," said Mike "Andretti" Smith of Team 25. "We've been doing this for many years, so to sit here today looking forward to a season of working with the 2000 NASCAR Cup Champion makes this something really special."
According to a press release, other partners for Labonte's foray into Modified racing will include Robert Yates Racing Engines, Pro System Brakes, Nitro Manufacturing, Earnest Performance, PSR Products and Breaking Limits.
Merchandise for this new venture for Labonte and Team 25 is available at BobbyLabonte.com.