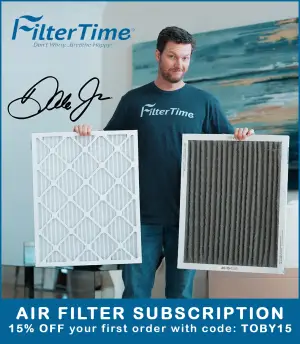 Martins Motorsports is ready to improve its performance on track in 2021, and the details announced on Saturday show the team has the potential to do just that.
As expected, driver Tommy Joe Martins will continue his duties on track in 2021 as the team's full-time driver. Veteran Crew Chief Buddy Sisco will continue calling the shots on top of the box for Martins.
In terms of partners, AAN Adjusters, Gilreath Farms Red Angus, and Market Rebellion have been confirmed via press release to return to the No. 44 Camaro in 2021 for multiple races each, with AAN taking the season opener at Daytona in just a few weeks.
How about some fresh paint (wrap) for the #44 @AANAdjusters Camaro for 2021? @ryanpistana went OFF on the redesign, and we are incredibly excited to get @TommyJoeMartins in this car @DAYTONA in a few weeks. Let's get this season started 🤙 pic.twitter.com/mFurecpVDh

— Alpha Prime Racing (@TeamAlphaPrime) January 30, 2021
"Having Ken Gilreath & AAN back on the car was critical to all this," Martins said.  "2020 was a tough year for everyone. Knowing they're sticking by us & wanting to do more with MMS – that just means so much to me and the team. One of the coolest parts of last year was the new sponsors we had join us. First Skyview Partners & they introduced us to Market Rebellion, who have really enjoyed getting into the sport, learning more about it, and using it as a promotional tool for a really awesome site. We're thrilled to have them back."
Additionally, Martins himself has moved to Mooresville, North Carolina to take on a full-time role as General Manager of Martins Motorsports. The Como, Mississippi native was serving as a racing instructor at Ron Fellows Performance Driving School in Las Vegas, Nevada.
"It was a tough decision," Martins said. "I've loved my time at Spring Mountain – and I still plan on working there some when I can. But MMS is the focus this year. Growing and strengthening this team for the future, & helping Buddy however I can."
With these plans in place, Martins is hoping to capitalize on a good season in 2020. Scoring 15 top-20's, nine top-15's, and the team's first-ever top-10 at Texas, the No. 44 finished the season 20th in the final points standings.
"At the end of last year we showed up every race expecting to finish top-15," Martins said. "But the series is tougher than ever this year. I think there's gonna be something like 43 full-time entries. That's wild. I mean we only start 36 cars every week. Top20's & top15's are still the goals but we know it's going to be a challenging year with the depth of the field. We're ready to take it on."
The 2020 NASCAR Xfinity Series season will go green on Saturday, February 13th for the running of the 'Beef. It's What's For Dinner. 300. Coverage begins at 5:00 PM EST on FOX Sports 1.