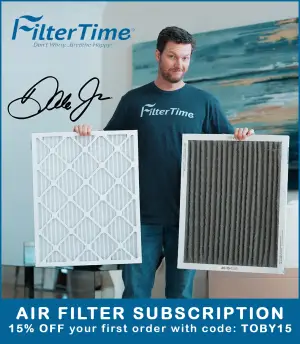 Colby Howard will return to the NASCAR Xfinity Series for the second straight season, as the 19-year-old will contest his first full-time schedule in a NASCAR National Series, when he drives the No. 15 Chevrolet Camaro full-time for JD Motorsports.
Wayne Carroll will serve as the crew chief for Howard's full-time effort next season, which will mark his fourth consecutive season as a crew chief for JD Motorsports. Carroll and Howard have worked together once before in the NASCAR Xfinity Series, as part of a crew chief swap between the JD Motorsports crews at Talladega Superspeedway.
"I cannot thank Johnny Davis and Gary Keller enough for the opportunity to run a full season in the NASCAR Xfinity Series next year. What we were able to accomplish this season with limited track time was really impressive, and it just goes to show what this team is made of. I know that my crew has been working very hard since the season finale in Phoenix, and am confident that we will have a fun year. Wayne Carroll has put together some fast cars, and I will rely heavily on him as I make this jump in my career. There is a lot to look forward to heading into 2021, and I am excited to continue to learn and develop my abilities on the race track."
The Simpsonville, South Carolina-native drove for the organization in 22 events last season, scoring two top-15s and seven top-20 finishes, while leading his first ever laps in NASCAR National Series competition at Talladega Superspeedway – with Wayne Carroll as the crew chief.
Howard has a career-best finish of 12th at Daytona International Speedway in August and will look to claim his first top-10 finish in NASCAR National Series competition when the NASCAR Xfinity Series opens the season at Daytona on February 13th, 2021.
The Project Hope Foundation, an organization aimed at assisting children with autism develop into society, will once again serve as the primary sponsor on the No. 15 Chevy. Project Hope calls South Carolina home as well, tying in a statewide connection with Colby and the entire JD Motorsports with Gary Keller team.
Further sponsorship announcements for Colby Howard will be made at a later date, along with more driver announcements to complete the JDM lineup.