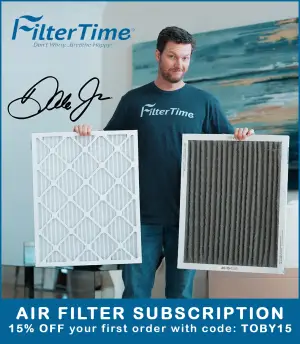 Michael Annett – and longtime partner Pilot Flying J — will return to JR Motorsports next season, as the organization announced on Thursday that they've extended the 34-year-old's contract through at least the 2021 season.
The Des Moines, Iowa-native will pilot the No. 1 Chevrolet Camaro full-time in 2021, a car in which he has had some of the best results in his NASCAR career, including his first career victory at Daytona International Speedway in 2019. This season, Annett has set a career-high for top-10s in a single season, notching a total of 21 entering this weekend's season-finale at Phoenix.
"Having Pilot Flying J as a partner for the last four seasons has helped JR Motorsports excel on many levels, and being able to continue the relationship will allow us to keep growing and succeeding together," said Kelley Earnhardt Miller, general manager of JR Motorsports. "Pilot Flying J's commitment to the sport and to our team is strong, and we are proud to be moving forward with them."
For Pilot Flying J, 2021 will mark the company's fifth consecutive season as a primary sponsor for JR Motorsports and their 14th consecutive season as a primary sponsor for driver Michael Annett.
"Pilot Flying J is excited to continue or long-standiing relationship with Michael [Annett] and JR Motorsports," said Ken Parent, president of Pilot Flying J. "We look forward to seeing where Michael will finish this year and we wish him the best of luck and success in the 2021 season."
In 2012, Annett earned his only top-five points finish to date – driving for Richard Petty Motorsports — but has clinched a spot into the NASCAR Xfinity Series Playoffs in three of his four full seasons at JR Motorsports, with a best points finish of ninth for the organization in 2017 and 2019. In his 131 NASCAR Xfnity Series starts for the organization, Annett has scored 50 top-10 finishes.
"Returning to JR Motorsports with Pilot / Flying J means a lot to me," said Annett. "We've been able to grow this program here, with Travis Mack and the team, and I know that more race wins and playoff appearances are in the future. Pilot Flying J has been a geat partner for the past 13 seasons and I am looking forward to being here with Dale, Kelley and the JR Motorsports family."