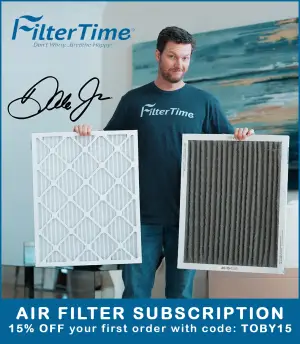 Ricky Stenhouse, Jr.'s great run yesterday at Dover will not be matched in the second leg of the Drydene Double, as the No. 47 has retired from the event after contact from Joey Logano sent Stenhouse into the inside wall on lap 7.
Two seperate incidents occured in the aftermath of the initial contact, with Chase Elliott making contact with Joe Gibbs Racing driver Kyle Busch, causing damage to both vehicles.
Additionally, Joey Gase and Garrett Smithley spun off of turn four in the aftermath, causing extensive damage to Gase's No. 51 and Smithley's No. 7.
Kyle Busch, Chase Elliott, Joey Gase, Joey Logano, Ricky Stenhouse, Jr and Garrett Smithley all received damage of some magnitude in the incidents.
Big trouble early at the @MonsterMile! @StenhouseJr and @chaseelliott are among those involved in this crash. pic.twitter.com/zRSQV7SRtc

— NASCAR (@NASCAR) August 23, 2020
Chase Elliott, Joey Gase and Ricky Stenhouse, Jr. were unable to continue due to the extensive damage on their cars, while Kyle Busch, Garrett Smithley, Erik Jones and Joey Logano were all able to make repairs and return to the race.