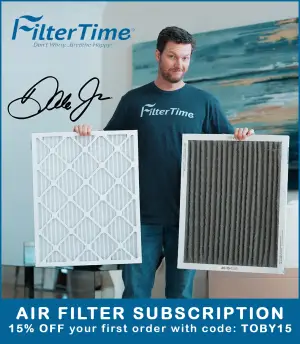 Kyle Busch drives for Joe Gibbs Racing, one of the two organizations who have combined to win 11 of the 12 races in the 2019 Monster Energy NASCAR Cup Series season (Team Penske being the other). Busch, the 2015 Series champion, was on a feverish pace to start the season as he had scored three wins and he had top-10 finishes in each of the first 11 races, tying an all-time NASCAR record held by Morgan Shepherd for most consecutive top-10 finishes to start a season.
It seemed Shepherd's record was set to fall this weekend at Kansas Speedway. However, Busch found misfortune on Saturday night after he rolled through too many pit boxes, which led to a penalty. Busch wound up finishing 30th, three laps off the pace.
What Busch has done is remarkable, but when you take a moment to look back at Shepherd's 1990 season, you realize just how incredible it really was.
Unlike Busch, Shepherd was not driving for one of the most elite teams in the Series at the time.
The true dominant teams of the 1990 era were Richard Childress Racing, Melling Racing, Raymond Beadle's team with Rusty Wallace and two young emerging organizations named Roush Racing and Hendrick Motorsports.
Sure, Shepherd's car owner was NASCAR Hall of Famer Bud Moore, but the No. 15 team was a shell of it's former self. In 1988 and 1989 the team finished 20th and 19th in the year-end point standings. In total, the team scored just 11 top-10 finishes over that two-season stretch before Shepherd took the reigns.
When Shepherd arrived in 1990, he scored 11 top-10 finishes right out of the box.
In an era, unlike nowadays, where equipment was shaky and engine failures were quite often (especially a hallmark of the Bud Moore team over the years) it's just unfathomable that Shepherd pulled this accomplishment off.
In the 10 year stretch before Shepherd arrived at Moore's organization (1980 to 1989), the race team average nearly eight DNFs due to mechanical failures per season. Well, the driver before Shepherd must've been terrible, right? Well, the team had five drivers (Bobby Allison, Benny Parsons, Dale Earnhardt, Ricky Rudd and Brett Bodine) over that span, and three of them are now NASCAR Hall of Famers.
How did a journeyman driver who was driving for a fading organization known for mechanical failures do what nobody else — other than Kyle Busch in 2019 — has been able to accomplish in the entire history of the sport? Perhaps it's because Shepherd is, was and always will be an absolute legend who doesn't get the full recognition he deserves.
Shepherd had an incredible ability to take care of his equipment, yet had enough killer instinct to also win four times in the top division of NASCAR despite never landing with a dominant team in the sport.
29 years later, Shepherd's record still stands and it's as impressive as ever after Kyle Busch failed to best it Saturday night.