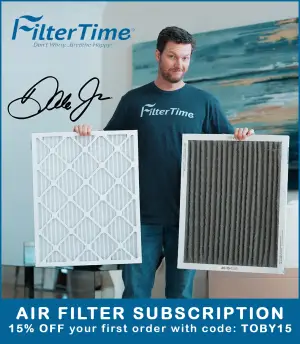 UPDATE – Thursday, January 12 at 8:45 am ET: On Thursday, Kevin Harvick confirmed that he would be retiring following the final race of the 2023 NASCAR Cup Series season at Phoenix Raceway.
"There is absolutely nothing else in the world that I enjoy doing more than going to the racetrack, and I'm genuinely looking forward to this season," said Harvick, driver of the No. 4 Ford Mustang for Stewart-Haas Racing. "But as I've gone through the years, I knew there would come a day when I had to make a decision. When would it be time to step away from the car?"
The decision to make 2023 his final season in the NASCAR Cup Series comes as Harvick, 47, eyes more family time, with his wife DeLana, and two children Keelan and Piper. However, the Harvick family will still be at the track, but it won't be Kevin in a firesuit.
"I've sought out people and picked their brains. When I asked them when they knew it was the right time, they said it'll just happen, and you'll realize that's the right moment. You'll make a plan and decide when it's your last year," Harvick continued. "It's definitely been hard to understand when that right moment is because we've been so fortunate to run well. But sometimes there are just other things going on that become more important and, for me, that time has come."
The decision to make the 2023 NASCAR Cup Series season his final comes as Harvick seeks more family time. While the 47-year-old will still be visiting racetracks, they'll be doing so with their two children Keelan and Piper, who have already begun to follow in their father's footsteps.
"In the last year, I think I've seen Keelan race three times while he's been in Europe. I go to the go-kart track with Piper and she makes twice as many strides in a day while I'm there than she would in a day when I'm not there. It takes a lot of time to organize the level of racing they're doing, and to be around that is important to me," Harvick said.
The Bakersfield, California-native was thrust into the spotlight of the NASCAR Cup Series at 25 years old, when it was announced that he would be the full-time replacement for Dale Earnhardt, after his fatal accident in the 2001 Daytona 500.
Harvick went on to visit victory lane a couple of weeks later at Atlanta Motor Speedway and continued to spend the entirety of the season double-dipping between the NASCAR Cup Series and NASCAR Xfinity Series, managing to capture a championship in the second-tier series.
"Dale's passing changed our sport forever, and it changed my life forever and the direction it took. It took me a long time to really get comfortable to really even think about things that happened that day," Harvick said. "Looking back on it now, you realize the importance of getting in the Cup car, and then we wound up winning my first race at Atlanta in the 29 car after Dale's death. The significance and the importance of keeping that car on the racetrack and winning that race early at Atlanta – knowing now what it meant to the sport, and just that moment in general of being able to carry on, was so important."
The long-time driver for Richard Childress Racing would find a way to make it work for a second time in 2006, running both schedules full-time, en-route to a second championship in the NASCAR Xfinity Series.
At the end of 2013, Kevin Harvick announced that he wouldn't return to Richard Childress Racing, but would rather move to Stewart-Haas Racing to pilot the No. 4 Chevrolet, partnering with Rodney Childers, which would end up being a match made in heaven.
"Rodney and I are pretty much the same age with very similar backgrounds, as far as racing goes. But we're kind of opposites in that he's very calm, cool and quiet, and I'm kind of rambunctious and full of excitement. That pairing has brought a lot of respect just because I know his demeanor, he knows my demeanor, and it's a good balance in the middle," Harvick said.
"We know each of us can do the job, and we believe in that and each other, and a lot of that comes down to conversations, being able to communicate. We communicate well, and that's what makes a good pairing – being able to talk and communicate and put those conversations into action. And when you're wrong, understanding when you're wrong, and working through that and not having anybody's feelings get hurt and start pointing fingers That's what's made it work."
The command behind the wheel was a main reason that Tony Stewart, co-owner of Stewart-Haas Racing, knew that he needed Harvick to be a part of his NASCAR Cup Series team, a move that proved to be critical in shaping the sport in the back-half of the 2010s.
"I competed against Kevin for a long time and I was so happy to finally have him a part of our race team," said Stewart, the three-time NASCAR Cup Series champion who co-owns Stewart-Haas Racing with Haas Automation founder Gene Haas. "He's incredibly reliable – consistent and calculated on the track with a drive to always be better. That's what you want in a teammate. He knows what he needs to be successful, and his will to win helped elevate our entire company."
Stewart retired from full-time competition in the NASCAR Cup Series following the 2016 season, collecting a victory at Sonoma Raceway.
"I want Kevin to savor every lap this season, to compete like hell and to take it all in. He's made all of us at Stewart-Haas Racing incredibly proud and we want to make his last season his best season."
Harvick's final season will begin at the LA Memorial Coliseum on February 5th.
---
AND: NASCAR President Steve Phelps released the following statement on Thursday, following the news of Harvick's retirement.
"With championships across several NASCAR series and a NASCAR Cup Series win total that ranks in the top 10, Kevin Harvick's legacy as one of the all-time great drivers is secure. Beyond his success inside a race car, Kevin is a leader who truly cares about the health and the future of our sport – a passion that will continue long after his driving days are complete. On behalf of the France Family and all of NASCAR, I congratulate Kevin on a remarkable career and wish him the best of luck in his final season."
---
ORIGINAL STORY:
Kevin Harvick, who has raced full-time in the NASCAR Cup Series since 2001, is expected to announce his retirement from full-time competition at NASCAR's top level, according to a report from Jordan Bianchi of The Athletic.
---
READ: The Athletic – Kevin Harvick to Retire After 2023
---
According to the report, Harvick is expected to announce on Thursday that the 2023 season, his 23rd in the NASCAR Cup Series and 10th at Stewart-Haas Racing – will be his final as a full-time competitor.
A 60-time Cup Series winner, Harvick has been a dominant force at NASCAR's top level since joining Stewart-Haas Racing and being paired with Rodney Childers in 2014. In his last 324 starts, Harvick has scored 37 wins, compared to 23 in his previous 466.
In December, Harvick spoke to members of the media about the possibility of the 2023 NASCAR Cup Series season being his final, saying that it could go either way and that he was likely to have a decision made by the time Speedweeks came around.
Last season at Charlotte's ROVAL, Harvick became the first driver in the history of the NASCAR Cup Series to score 600 career lead-lap finishes. In the Spring of 2023, Harvick will become the 10th driver in series history to record 800 starts.
Harvick's departure from Stewart-Haas Racing will leave a sizable vacancy in the organization following the 2023 Cup Series season, one that Bianchi states won't be filled as part of Thursday's announcement.
TobyChristie.com has attempted to reach out to Stewart-Haas Racing for a comment regarding the reports on Wednesday, but has not received a response at the time of posting.