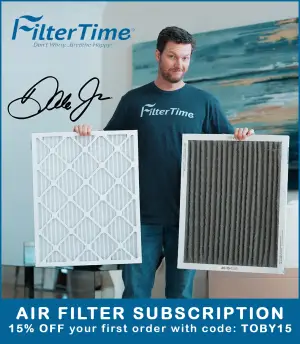 Josh Bilicki will have a new home for the 2023 NASCAR season, as he'll move to Live Fast Motorsports in a part-time capacity beginning with Circuit of the Americas on Sunday, March 26, 2023.
Bilicki will bring his longtime sponsorship partner Zeigler Auto Group with him to the No. 78 team, which previously announced a switch from Ford to Chevrolet for 2023.
"We had a great season last year with Josh, and we are excited to partner with Live Fast Motorsports for 2023. Having our new team onboard gives us a fresh start on the track with owners that are focused on performing among the best at each race," said Aaron Zeigler, president and owner of Zeigler Auto Group.
The 27-year-old driver is excited for his new opportunity, as he has worked with Live Fast Motorsports co-owner BJ McLeod in the past.
"I am so happy to have the opportunity to join Live Fast Motorsports for the 2023 season and to once again represent the Zeigler Auto Group. The Zeigler team has become like family to me and I have driven for BJ McLeod in the past in the NASCAR Xfinity Series, so this felt like a very natural t for all parties. I'm excited and thankful for the opportunity and can't wait to get to work," said Bilicki in a press release.
While the press release lists Bilicki's 2023 debut as the event at Circuit of the Americas, it also states Bilicki will carry the Zeigler colors at the Chicago Street Course event on July 4th weekend as well as in the FireKeepers Casino 400 at Michigan International Speedway and the Verizon 200 at the Indianapolis Motor Speedway Road Course.
"Live Fast Motorsports is thrilled to welcome Josh Bilicki and Zeigler Auto Group to the team in 2023," said co-owner of Live Fast Motorsports, Tifft, and co-owner and driver, McLeod.
"Bilicki and Zeigler Auto Group share a strong relationship and we look forward to teaming up and becoming a part of that for multiple races next season. With Bilicki's great talent behind the wheel and our new ECR motor program, we look forward to continued growth in 2023."
Bilicki, a native of Menomonee Falls, Wisconsin, has one top-10 finish in 87-career NASCAR Cup Series starts. In 2022, Bilicki enjoyed his career-best average finish (29.1).
The driver also scored his first-career top-10 finish in the NASCAR Xfinity Series in 2022, and he also competed in a one-off NASCAR Craftsman Truck Series event at Sonoma Raceway.
Bilicki has earned the reputation of being a driver that has a knack for not tearing up his equipment over his seven years in the NASCAR National Series ranks.