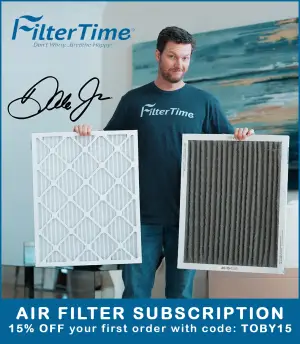 The way that Sunday's Verizon 200 at Indianapolis Motor Speedway's Road Course has begun, this was really the only logical next step, right?
While under the first caution of the event for the conclusion of the race's first stage, a tent broke loose from its position on the other side of the turn one wall, blowing onto the race track while cars were pacing.
Luckily, the tent didn't make any significant contact with any vehicles, although it definitely came pretty close to Cody Ware's No. 51 Nurtec ODT Ford Mustang.
David Land caught video of the tent blowing on the track – and nearly hitting Cody Ware – on video, posting it to Twitter.
PRAWBLEMS!!!! pic.twitter.com/HKoYi6tnqQ

— David Land™❌ (@DLand91) July 31, 2022
Similarly, Matt Wishart, a photographer for Daylon Barr Photography, caught images of the tent flying onto the track, even getting a photo of Ware – and the AMR Safety team – in the frame.
We have had an incident in turns 1 and 2 under this stage caution. @CodyShaneWare and the AMR safety team are on the scene. pic.twitter.com/P7cOY4vZsz

— Matt Wishart (@MatteAyce) July 31, 2022