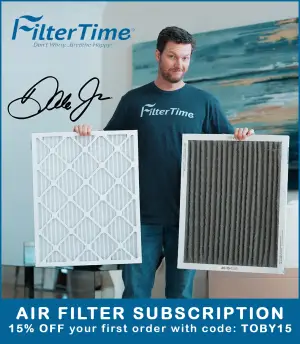 The NASCAR Camping World Truck Series drivers and teams intended to put laps down before Saturday's regular season finale from Pocono Raceway, but rain and lightning halted on-track action, which eventually led to the cancelation of Friday's practice and qualifying sessions.
All important practice time, at one of the trickiest tracks on the schedule, will not be available to the field and qualifying positions for the CRC Brakleen 150 will be set by the NASCAR Rule Book. The lineup is put together by a metric system based on performance and is utilized when qualifying is called off due to the inclement weather.
Zane Smith, championship points leader, will lead the field to the green for the fourth time in 2022. Chandler Smith will start alongside with Carson Hocevar, Stewart Friesen and Christian Eckes rounding out the top-five.
With no practice, Saturday's 60-lap regular season finale event will be wildly unpredictable. As the majority of the full-time field will be vying for their first win on the season, seemingly anyone can break through and lock themselves into the Playoffs with a surprise win.
Todd Bodine, who is not Playoff eligible, will make his 800th-career NCWTS start on Saturday and it'll also be his first start at Pocono Raceway since 2013.
While Tate Fogleman had the worst metric formula total of anyone that was set to attempt to qualify, the driver of the No. 26 Rackley W.A.R. truck was not one of the two trucks that was sent packing after qualifying was canceled.
Fogleman had a Past Winner's Provisional (PWP) by virtue of scoring his first-career NASCAR Camping World Truck Series victory last season at Talladega Superspeedway in the fall.
With Fogleman in the field, that leaves Norm Benning (6) and Bryan Dauzat (28) as the two drivers who will not make the field. This is Benning's third DNQ of the season as he was trying to make his first start on the year, at his hometrack no less. Dauzat was looking to make his fourth start of the season.
Here is the lineup for the NASCAR Camping World Truck Series race at the Pocono Raceway:
Qualifying Results: 2022 NASCAR Camping World Truck Series CRC Brakleen 150