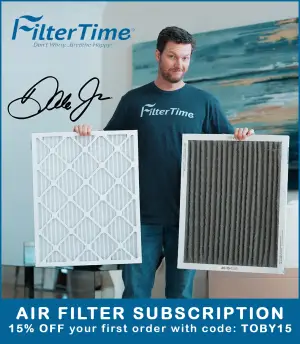 UPDATE: Tuesday, January 11th at 8:10 PM ET
While the number of primary sponsor races was not available at the time of the 3Chi announcement, 3Chi has since sent out their race schedule in an email newsletter to their customers.
The company will be on the car for 14 races in 2022.
In addition to the Daytona 500, 3Chi will be the primary sponsor for Tyler Reddick at Atlanta (March 20), COTA (March 27), Martinsville (April 9), Bristol Dirt (April 17), Darlington (May 8), WWT Raceway in Gateway (June 5), Nashville (June 26), Road America (July 3), Indy RC (July 31), Richmond (August 14), Charlotte Roval (October 9), Homestead (October 23) and Martinsville (October 30).
---
ORIGINAL STORY: January 11, 2022 at 11:24 AM ET
Tyler Reddick will have a new majority sponsor for the 2022 NASCAR Cup Series season on the No. 8 car as Richard Childress Racing unveiled 3Chi as the new anchor sponsor for the team Tuesday at Daytona International Speedway.
For 3Chi, this is a chance to market their products to NASCAR fans, who are among the most loyal to brands that support their favorite athleted.
"This is a unique opportunity to leverage a team partnership with one of the most iconic and innovative teams in NASCAR to help introduce 3CHI's vast array of products to a passionate and dedicated fan base," said Justin Journay, founder and chief executive officer of 3CHI. "We're looking forward to working with Richard Childress Racing to tap into the excitement of the sport and new Next Gen car, unique activation opportunities and technology involved."
While no amount of races was announced on Tuesday, 3Chi, which enters a multi-year deal with RCR in 2022, will be Reddick's primary sponsor in the Daytona 500.
3Chi, according to their Twitter profile, is a premium, award-winning hemp product company. This sponsorship becomes the first NASCAR race team sponsorship in the hemp category.
"This is a first-of-its kind partnership, both within motorsports and within the sports industry as a whole," said Torrey Galida, president of Richard Childress Racing. "We're proud of our role as industry leaders in this category and look forward to introducing a pioneer in hemp-based consumer products to NASCAR, as well as educating fans about 3CHI's innovative, science-based products."
Reddick, 26, has come very close to winning his first NASCAR Cup Series race in his first two seasons on the circuit. Reddick has scored three runner-up finishes to date, including two times in 2021.
The two-time NASCAR Xfinity Series champion, who hails from Corning, California, will look to take the next step and become a NASCAR Cup Series winner in 2022.
Regardless, Reddick and Richard Childress Racing took a big step on Tuesday becoming the first race team in NASCAR to have a hemp-based sponsorship.
Last June, Pocono Raceway's Pocono Organics CBD 325 became the first CBD sponsorship in the sport's history. NASCAR allows sponsorships of this nature, so long as the product being pushed has less than 0.3% THC.