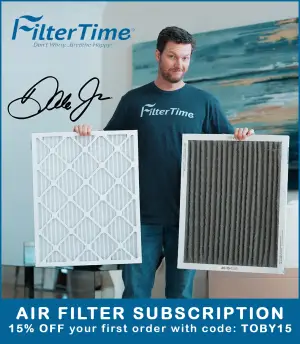 Ladies and gentlemen: welcome to the first edition of Dale Tanhardt's NASCAR Trucks DFS and Betting preview. The In It To Win It 200 marks the second race of the first round of the playoffs for the NASCAR Camping World Truck Series, and we roll into Darlington with some momentum on trucks after I picked Sheldon Creed (+600) to win at Gateway a couple of weeks ago.
For the betting junkies out there who may be new to the Garage Guys; I have predicted the winner in 9 of the 16 races run thus far in the Truck Series. We've cleared some solid ROI on trucks in 2021. I've always said that I believe Vegas doesn't know enough about the Truck Series. I seem to always find value in their misprices and overall lack of knowledge, and they pay off more times than not.
That's enough bragging. Just know we are extremely confident when it comes to our betting game. I hope to bring you some profits this weekend at Darlington.
Let's get into some Truck nuggets.
As mentioned earlier, Sheldon Creed (friend of the Garage Guys) is the series' most recent winner in a race he dominated. He is locked into the next round of the playoffs and won at Darlington earlier this year after surviving a marathon that became a truck scrapyard. Sheldon and GMS collectively were quite behind on speed compared to the Kyle Busch Motorsports fleet last time we were in Darlington, but the narrative has shifted.
KBM has now gone four races without a win. The presumed lead dog in the playoffs, John Hunter Nemechek, has only led two laps in the last three races. Two. JHN is a five-time winner this season and arguably boasted the fastest truck in Darlington earlier this year before mayhem ensued with all three KBM trucks getting swept up in a massive accident. He is the betting favorite to win on Sunday (+300).
Ben Rhodes won here in the long-awaited return to Darlington for the truck series after the win was virtually handed to him when Sheldon Creed and Brett Moffitt pit under caution with just a few laps to go. Moffitt and Creed, both driving for GMS, led 145 of 150 total laps. In two starts at Darlington, Rhodes's finishes are 1st and 2nd.
This time around, I'm concerned with Rhodes's consistency, his P3 starting spot, and the overall speed of his truck. ThorSport collectively concerns me with their speed throughout the year compared to KBM, DGR, and GMS. This race brings a very tricky slate to the table with so many appealing plays. I don't anticipate this race being near as crazy as the spring race, but it's trucks. Anything can happen.
Let's get right into it.
Just want to say thank you all for the continued support with GG Disaster Deletion!

Me and @daletanhardt will begin purchasing what we can with the funds raised so far over the weekend.

Lets keep spreading the word so we can get help to more areas! https://t.co/mi6Tex5zag

— Chase Holden (@GarageGuyChase) September 3, 2021
NASCAR DFS Truck Picks for DraftKings
Austin Hill: #16 Hattori Racing Toyota – $10,300
I think Austin Hill might be the man to beat on Sunday.
There are many reasons why I love Austin Hill, who starts 7th on Sunday. Before Gateway where Hill was collected in a crash, his average finish of the previous five races is 4.2. Five Top 10's, four Top 5's, and two wins in that stretch have Hill as one of the hottest drivers heading into the playoffs.
I know that momentum was halted at Gateway last time out, but now we head to a track that this team has shown excellent speed. Last year in this race, Hill finished 3rd and arguably had the 2nd best truck behind Sheldon Creed. In the spring Darlington race of 2021, he once again had a tremendous truck that would've run Top 3 and contended for the win had he not been taken out.
If there's anybody who can challenge Creed and Nemechek on Sunday, it's Hill. Hill is $1,000 cheaper than Nemechek and $600 cheaper than Creed on DraftKings, and I believe he has high potential to be just as strong as a dominator play. If you can stack Hill, Creed, and Nemechek, I'd recommend it. I believe that Hill saves you some important salary to maximize your lineup while also providing the same value as Nemechek and close to the same value as Creed.
Parker Kligerman: #75 Henderson Motorsports Chevrolet – $9,600
I love the chalk here. Kligerman is always sporty when he gets an opportunity in this truck, and had a Top 5 run going here in the spring before crashing. In eight starts in 2021, Kligerman's average finish is 16.0. If you take out the two races in which he crashed (Daytona RC and Darlington), his average finish is 10.8.
I almost forgot to mention that he starts 34th on Sunday. That's the chalk I was referring to.
The experience Kligerman possesses along with the solid equipment he will be piloting provides enough validation for me to play a solid amount of Kligerman on Sunday. His floor is super low and his ceiling is super high. Gotta play Parker.
Ryan Truex: #40 Niece Motorsports Chevrolet – $4,900
This one is baffling. I've been trying to figure out why Truex is priced this low. It scares me.
Could it be? Does Vegas know something about trucks that I don't?
Truex starts 19th and has scored 30 fantasy points or more in three of his last four races. He finished 11th in the Darlington spring race, and like Kligerman, possesses a solid amount of experience with multiple starts at Darlington over the years. Truex is also racing a truck that is capable of running in the Top 15 with a ceiling inside the Top 10.
When you look at all the other drivers in this price range it seems like a no-brainer to play Truex. I think Truex will run in the Top 20 with a solid shot at another Top 15. Truex is the punt play of the weekend.
 Sheldon Creed: #2 GMS Racing Chevrolet – $10,900
There's nothing more dangerous than a driver with nothing to lose.
As I stated earlier, Creed is locked into the next round virtue of his win at Gateway in the playoff opener. He starts on the pole this weekend at a track he's been tremendous at in his two starts. I think there's a solid chance that the one that got away last season comes back to him.
GMS has made exceptional strides over the summer stretch on catching the Toyota's in performance, and Creed has led the charge. He has three Top 3's in his last four races including the aforementioned win, and I think his aggression level will be high. Track position is very important here, so I can see Creed leading the early stages of the race and accumulating extra points through fast laps and laps led.
If he and his team keep their race mistake-free, these guys will be strong contenders to go back-to-back on Sunday. I don't see these guys finishing outside the Top 5. Yes; I still like Hill slightly better, but with the interesting variance in prices across the board, it remains very possible to stack these two guys and still put together a legitimate lineup that can win a tournament. I love me some Hill, but don't be surprised if we witness the Sheldon Sweep on Sunday.
NASCAR Trucks Best Bets
To Win:
Creed +450
Hill +700
Top 3:
Hill +200
To see my entire NASCAR Camping World Truck Series betting card, subscribe to Garage Guys Fantasy Sports Premium. 
CHECK OUT THE LATEST NASCAR DFS CONTENT FROM GARAGE GUYS FANTASY SPORTS ON YOUTUBE
View More NASCAR DFS News and Analysis From Garage Guys Fantasy Sports Here, and Join The Garage Guys Fantasy Sports Discord Server For Breaking News and Advice During The 2021 NASCAR Season.
Subscribe To Garage Guys NASCAR DFS Premium Content For DraftKings, FanDuel, and Betting