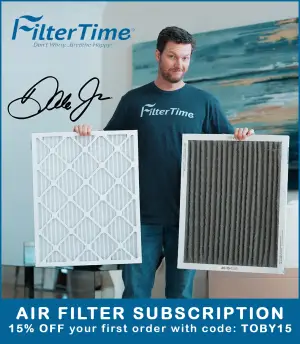 Front Row Motorsports announced on Monday that longtime partner Fr8 Auctions will expand their partnership in 2021 for the team, and for NASCAR Cup Series driver Michael McDowell.
NEWS: @fr8auctions expands partnership with Front Row Motorsports to become the primary partner of @Mc_Driver and our No. 34 program for 6 races in 2021!

— Front Row Motorsports (@Team_FRM) January 18, 2021
Fr8 Auctions will take six races in 2021, up from just one race in 2020. Fr8 Auctions will serve as the primary sponsor for McDowell at the Daytona road course (2/21), Atlanta (3/21), Martinsville (4/10) Darlington Throwback Weeknd (5/9), The Coca-Cola 600 (5/30) and the second race at Atlanta (7/11)
"What makes Marcus and the team at Fr8Auctions so great is their desire to help others," added McDowell. "That's why they have been a great fit for Front Row Motorsports and I'm grateful for them stepping up with us. We're taking the next step at FRM and it's because of partners such as Fr8Auctions who are making that happen."
The Atlanta-based company has been involved with NASCAR for a number of years, across all three touring series from Our Motorsports in the Xfinity Series, to Front Row in the Cup Series.
"We have found a great home to promote our auctions with Front Row Motorsports and Michael McDowell," said Fr8Auctions Founder, Marcus Barela. "Michael and everyone at Front Row Motorsports have been great to work with and have helped us on and off the track. We are proud to increase our partnership and look forward to another great year together."
The paint scheme was designed by Shawn Magee, also known as "SMD Racing" on social media. The Ohio based designer helped launch Fr8 Auctions' new company look a few years ago, and has had the responsibility of putting the Fr8 colors on track for the past few seasons across the Camping World Truck Series, Xfinity, and Cup Series.
"The 2021 paint schemes for Fr8Auctions will incorporate more streamline design that utilize clean lines and simple colors," Magee told TobyChristie.com. "Fr8Auctions owner, Marcus Barela wanted to 'go back to the basics' by moving away from the darker, more aggressive design reflected in the 2020 partnership with FRM and move towards a cleaner look that utilizes the white as a base color. The contrast of the FR8 logo on the white hood allows the mark stand out on track as well as makes the #34 Ford Mustang of Michael McDowell more visible for fans watching at home. "
You can see the Fr8 Auctions Mustang hit the track for the first time in 2021 at the Daytona road course on February 21st at 3:00PM EST on FOX and the FOX Sports App.