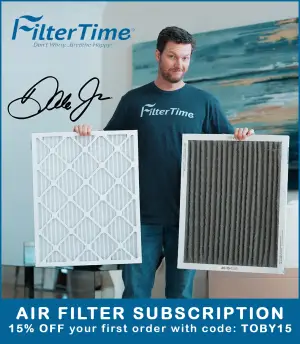 Matt Mills will return to the NASCAR Xfinity Series full-time with B.J. McLeod Motorsports for the third consecutive season, as the team announced on Wednesday that the 24-year-old would return to the organization in 2021 to pilot the No. 5.
J.F. Electric  – long-time supporters of Mills' racing career — will return to B.J. McLeod Motorsports as the anchor sponsor of the No. 5 team. Mills and the No. 5 team will also have support from Utilitra and Thompson Electric throughout the 2021 NASCAR Xfinity Series season.
"We're so happy to have both Matt (Mills) and J.F. Electric return to BJ McLeod Motorsports in the NASCAR XFINITY Series (NXS) for another season," said BJ McLeod. "Their commitment to our race team has allowed Jessica and I to continue to invest in, and improve BJ McLeod Motorsports. We believe that the No. 5 team will surprise people next season and we couldn't be more excited to get started at Daytona in February."
Mills will attempt all 33 events next season, as he looks to improve upon a career-high 21st-place finish in final point standings and take home the first top-20 points finish of his NASCAR Xfinity Series career.
"Being given the opportunity to return to BJ McLeod Motorsports and drive the No. 5 J.F. Electric car is such a honor," said Matt Mills. "We're going to have some fast race cars next year. When you drive for owners like BJ and Jessica (McLeod) that continue to invest so much into motorsports, it's hard to not be excited. The addition of Live Fast Motorsports to BJ and Jessica's motorsports business portfolio is a huge deal for the NXS team too. Daytona can't come fast enough for our team."
Last season, Mills made a total of 31 starts in the series, driving for B.J. McLeod Motorsports, failing to qualify at Phoenix Raceway in March and performing a last-minute driver change at Road America with teammate Vinnie Miller.
The Lynchburg, Virginia-native scored a season-best finish of 13th-place on three occasions in 2020, two of which came in a career weekend for Mills, scoring back-to-back 13th-place finishes in a doubleheader weekend at Richmond Raceway, outrunning powerhouse organizations like Joe Gibbs Racing and Stewart-Haas Racing on raw pace.
Mills joins Jesse Little – who will pilot the No. 78 full-time in 2021— as the organization's second full-time competitor for the 2021 NASCAR Xfinity Series season.
B.J. McLeod Motorsports will field an additional full-time entry in the form of the No. 99 in 2021, but no driver lineup has been announced. However, Ryan Ellis is expected to run for the organization in six to eight events throughout the season.
Announcements on personnel for the No. 5 team, along with the remainder of B.J. McLeod Motorsports' lineup for next season are forthcoming.