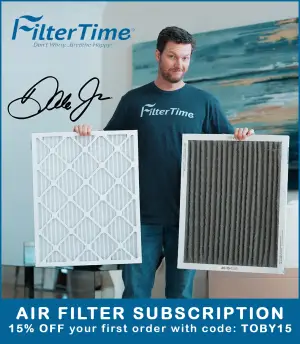 When the NASCAR Cup Series heads to Darlington Raceway for the third time in 2020, rookie of the year contender Cole Custer, will be honoring the 1956 Southern 500 winner and NASCAR Hall of Famer Curtis Turner, with a simplistic red and white throwback scheme.
As part of Darlington Raceway's annual "Throwback Weekend" Custer's No. 41 Stewart-Haas Racing Mustang will be all dressed up, to match Turner's 1965 Ford Galaxie that he ran in his final season in the NASCAR Cup Series.
Much like Custer, Turner scored his first career NASCAR Cup Series victory in his first season of competition, winning his fourth career start at Langhorne Speedway in 1949.
Throughout his 17 season career  from 1949 to 1968, Turner notched 17 race wins, with 54 top-fives and 73 top-tens to his credit, despite never running a full season in the NASCAR Cup Series.
However, when the NASCAR Cup Series races on to Darlington Raceway next weekend, Custer will have the playoffs on his mind, as the 22-year old clinched a spot in the ten race post-season with an incredible last-lap move at Kentucky Speedway, to pick up his first career NASCAR Cup Series victory.
The Ladera Ranch, California-native will be looking to score a solid finish in the playoff opener, in hopes of building a cushion over the bubble for the final two races of round one. Custer does have two prior starts in the NASCAR Cup Series ar Darlington, finishing 22nd and 31st in a pair of races earlier this year at the South Carolina track.
Rookie @ColeCuster honors another #NASCAR great at @TooToughToTame. The No. 41 https://t.co/fKx0qUF9BM Ford Mustang pays homage to 1956 #Southern500 winner & #NASCARHall of Famer Curtis Turner who raced a 1965 Ford Galaxie in his final season in the Cup Series. #NASCARThrowback pic.twitter.com/We1oUao1cr

— Stewart-Haas Racing (@StewartHaasRcng) August 27, 2020