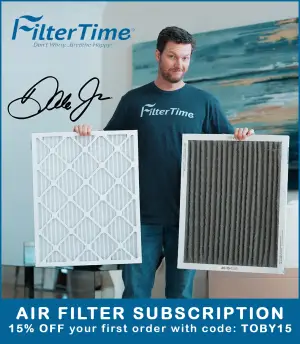 Conner Jones, who ran four ARCA Menards Series events with Venturini Motorsports in 2022, will expand his schedule to 12 events (10 ARCA Menards Series races, one East and one West race) in 2023. The 16-year-old driver is ready for the opportunity to get more experience behind the wheel.
"I'm excited for the opportunity to return to Venturini Motorsports this season for additional races," Jones said in a press release. "Being teamed up with one of the top teams in the ARCA Menards series will allow me to gain more experience and develop my craft behind the wheel."
Jones will have Kevin Reed Jr. as his crew chief for the 2023 campaign, and his first of 12 starts will come at Phoenix Raceway on March 10th.
According to the press release, Jones will have sponsorship from PepperJack Kennels and Jones Utilities. Additional partners and a car number for Jones' 2023 ARCA ventures will be announced at a later date.
In his four ARCA Menards Series starts in 2022, Jones scored a best finish of fifth, which came at Iowa Speedway. He recorded a total of one top-five, two top-10s and three top-15s.
The Virginia native has also scored three top-fives and four top-10 finishes in six ARCA Menards Series East starts, and he has competed in two ARCA Menards Series West races.
---
Here is the full 2023 ARCA Menards Series schedule for Conner Jones:
March 10, Phoenix Raceway
April 28, Dover Motor Speedway (East Series)
June 24, Elko Speedway
July 7, Mid-Ohio Sports Car Course
July 15, Iowa Speedway
July 21, Pocono Raceway
August 11, Lucas Oil Raceway
August 18, Watkins Glen International
August 27, Milwaukee Mile
September 14, Bristol Motor Speedway
September 30, Salem Speedway
November 3, Phoenix Raceway (West Series)