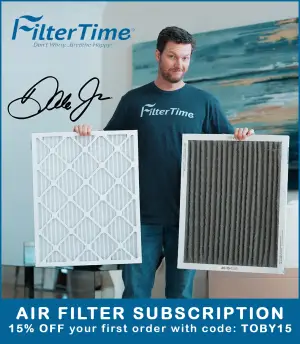 Josef Newgarden's crashed car sliding to a stop after the 2022 Hy-Vee Salute to Farmers 300 at Iowa Speedway. Photo courtesy of Chris Jones/Penske Entertainment.
NEWTON, Iowa — After leading 148 laps of Sunday's Hy-Vee Salute to Farmers 300, Josef Newgarden spun and crashed into the Turn 4 wall at Iowa Speedway. That crash ended Newgarden's attempt to sweep the NTT IndyCar Series doubleheader weekend at the 0.894-mile oval after winning Saturday's Hy-VeeDeals.com 250.
Leader @josefnewgarden's day ends after this incident at @iowaspeedway.

WATCH LIVE: @NBC and @PeacockTV#INDYCAR // @INDYCARatIowa pic.twitter.com/cE5LDk7Da7

— NTT INDYCAR SERIES (@IndyCar) July 24, 2022
The Tennessee native was going through Turns 3-4 on Lap 234 when a suspected rear suspension failure occurred. The No. 2 Team Penske Chevrolet promptly spun into the outside SAFER Barrier, hitting with the left rear corner of the car. Pato O'Ward was in second place at the time and led the final 66 laps to win the race.
Newgarden exited the car under his own power, walking gingerly to the medical vehicle. Newgarden cleared the post-accident medical exam to be released from the medical center.
"Definitely was a bit of a shock but just, man, I want to cry," Newgarden said outside the care center. "So sad for my team, I don't know what happened. It was a good run, I mean it's just one race, but I feel terrible for us. Team Chevy and Hitachi guys did a great job, just, I don't know, something went wrong there."
"I want to cry."

Josef Newgarden was in position to take the championship lead, but won't after crashing on Lap 236 at @iowaspeedway. #INDYCAR

📺 : @nbc and @peacockTV pic.twitter.com/NpRnCzctBK

— INDYCAR on NBC (@IndyCaronNBC) July 24, 2022
After the race, Newgarden fell in the motor coach lot, hitting his head and suffering an abrasion.
Out of precaution, the IndyCar medical staff airlifted the two-time IndyCar champion to a Des Moines-area hospital for evaluation.
"We had a driver that fell at his hauler and he struck his head," said IndyCar medical director Dr. Geoffrey Billows of Newgarden. "And we just want to send him downtown for further evaluation because we don't have the ability to get more advanced imaging or radiographs, but he's awake and talking to us.
"The thing that makes it confusing, you know, he crashed and he was evaluated here after the crash and he was fine. We actually went and talked to him afterwards and apparently after we talked to him he exited his hauler and he either passed out or fell or whatever and hit his head, so out of an abundance of caution we want to make sure that he doesn't have any kind of a head injury."
IndyCar was going to re-evaluate Newgarden on Thursday due to the level of G forces measured on the accelerometers embedded in each driver's earpieces. Newgarden would be able to participate in Friday's on-track sessions for the upcoming Gallagher Grand Prix at the Indianapolis Motor Speedway road course if he cleared that evaluation.
Newgarden did not exhibit any problems when the IndyCar medical staff spoke to him.
— NTT INDYCAR SERIES (@IndyCar) July 24, 2022
Newgarden was credited with a 24th-place finish and is currently third in overall points with 369 points. Marcus Ericsson leads the championship with 403 points ahead of Will Power in second place with 395 points.
The Gallagher Grand Prix will air live on NBC with the broadcast starting at noon ET on Saturday, July 30th.
UPDATED – A statement from Team Penske was released on Sunday night read, "Josef Newgarden was involved in an incident late in Sunday's race at Iowa Speedway, after which he was evaluated and released from the infield care center. Following the conclusion of the race Newgarden lost consciousness and fell, sustaining a cut on the back of his head. Due to the 45-minute drive to MercyOne Des Moines Medical Center and the traffic outside the racetrack, the medical helicopter was determined to be the best mode of transportation. After being evaluated, all scans were negative. Newgarden will be held overnight for observation. Following IndyCar protocol, Newgarden will be evaluated by the IndyCar medical staff on Thursday"