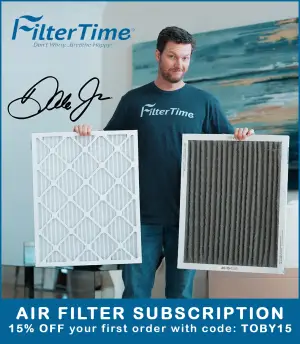 History could be made next weekend at the Indianapolis Motor Speedway Road Course, as NASCAR Whelen Euro Series driver Giorgio Maggi will attempt to become the first Swiss-born driver to start a NASCAR National Series event as he'll pilot the No. 42 MBM Motorsports machine.
To say Maggi is excited, would be an understatement.
"It's still really hard to believe because it seems so surreal," said Maggi in a NASCAR Whelen Euro Series press release. "I first came into contact with NASCAR two years ago and honestly had no idea about this type of motorsport. Now I'm going to be right in the middle of it! I'm really looking forward to it, but I'm also a little nervous, I have to admit. I'm super excited to be the first Swiss to compete in a NASCAR national Championship in the U.S."
The 23-year old has driven in the EuroNASCAR Pro division since 2020, and currently sits eighth in the 2021 championship standings. Maggi finished runner-up in the EuroNASCAR 2 point standings in 2019 and scored three wins in that division.
Loris Hezemans, who has three-career NASCAR Xfinity Series starts — including two earlier this season — will line up as a teammate to Maggi next weekend. The pair are teammates in the NASCAR Whelen Euro Series as well.
Hezemans is a seven-time race winner in the NASCAR Whelen Euro Series and he captured the series championship in 2019.
Toine Hezemans, Loris' father, is the person who ran point on getting this deal together. He is happy to see Maggi making history while driving as a teammate to his son.
"I am very happy that Giorgio Maggi will start alongside my son Loris [Hezemans] in Indianapolis," Toine Hezemans said. "He is the first Swiss to race in the NASCAR Xfinity Series. He learned a lot in the EuroNASCAR 2 Championship and was the runner-up in 2019. He's very mature for his age and has a lot of talent to be successful in the U.S. as well."
It'll be fun to see a new face in the NASCAR Xfinity Series next weekend, and Maggi and Hezemans will give us a glimpse into the driving talent that the NASCAR Whelen Euro Series is beginning to churn out.