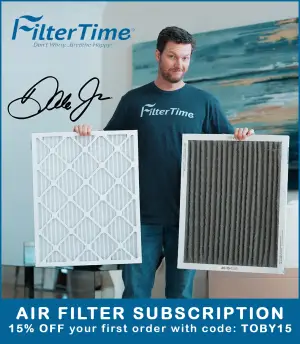 Well, that really isn't ideal….
Daniel Dye and Nick Sanchez will be relegated to an early retirement in Saturday Night's Calypso Lemonade 200 at Winchester Speedway, after an extremely questionable incident on Lap 84 of the 200-lap event, which involved David Gilliland Racing's Taylor Gray.
🔴 Red flag 🔴

HUGE trouble for @danieldye43 after contact with @TaylorGray17_ pic.twitter.com/05f5XyQJqF

— ARCA Menards Series (@ARCA_Racing) August 1, 2021
The incident occured when Gray's Ripper Coffee Co. Ford Fusion made contact with Dye's GMS Racing Chevrolet exiting the fourth corner, sending the Berlin winner into the outside wall with significant force. However, that wasn't the end, as the No. 21 entry would slide down the track and slam into Nick Sanchez's No. 2 REV Racing Chevrolet.
The two top-tier teams would be relegated to 13th and 14th-place finishes, while Taylor Gray's No. 17 Ford Fusion was able to continue on in the race running inside the top-five.
As expected, Dye wasn't happy about the incident at all, and neither was Randy Dye, his father, who was seen on pit road shouting at a crew member of David Gilliland Racing's No. 17 team, as well as the driver's father,  Shane Gray.
More unhappiness … pic.twitter.com/1vv7JrW8Ke

— ARCA Menards Series (@ARCA_Racing) August 1, 2021
After the accident happened, Dye took to social media to give his thoughts on the incident with Taylor Gray, saying: "Passed for 3rd clean and got right hooked intentionally. Confused, but you'll have that. Thank you to GMS Racing for building me a safe race car. Seen some people get hurt in race cars after stuff like that so I'm blessed and thankful to be here."
Passed for 3rd clean and got right hooked intentionally. Confused but you'll have that. Thank you to @GMSRacingLLC for building me a safe race car. Seen some people get hurt in race cars after stuff that like so I'm blessed and thankful to be here. https://t.co/ZJW7CPPDo9

— Daniel Dye (@danieldye43) August 1, 2021