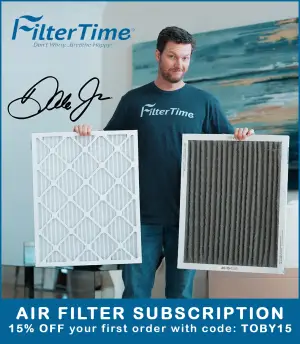 When Timmy Hill and MBM Motorsports roll into Atlanta Motor Speedway for the Folds of Honor QuikTrip 500 this weekend, they will have a new partner along for the ride on the sides of their No. 66 car. The team will have a new co-primary sponsor on the car in Atlanta-based Supreme Transportation Group.
Supreme Transportation Group, a company that provides logistical and transportation services for companies across the country, will serve as co-primary sponsor on the No. 66 MBM Motorsports machine in both the NASCAR Cup Series and Xfinity Series races this weekend. This will be the organization's first foray into NASCAR sponsorship, and needless to say, they're excited about it.
"Supreme Transportation Group is very excited to join MBM Motorsports and driver Timmy Hill for this weekends NASCAR events at Atlanta," Supreme Transportation Group's CEO Anitra McCall said in a team release. "Our company is based in Atlanta and we feel that this is a great opportunity to market our company on a national stage and raise awareness about our company. We have already been able to see how their B2B program works and we haven't even had a car on the track yet! We have been impressed with NASCAR and their diversity programs. Being a Certified Minority Enterprise, we felt like this was a great opportunity to team up with a team like MBM Motorsports and can't wait for this weekend to see the Supreme Transportation Group logo on the Toyota's being driven by Timmy Hill!"
Of course, this initial step into NASCAR sponsorship is a co-primary sponsorship slot for Supreme Transportation Group, but the company is expected to be a full-primary for at least one race for MBM Motorsports later in the season with the paint scheme featured above, which was designed by Shawn Magee Designs.
While it's been tough sledding for MBM through the first five weeks of the NASCAR Cup Series season, as they failed to make the field for the Daytona 500 and have recorded two mechanical DNFs in their four starts this season,  Hill and MBM have combined for two 16th-or-better finishes in NASCAR Xfinity Series competition in 2021, including a 14th-place finish this past weekend in Phoenix.
Hill looks to scoring his best finishes of the season in both series this weekend.