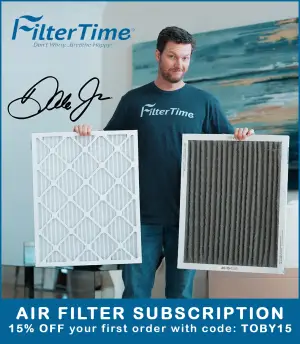 A widely speculated rumor was confirmed on Thursday as NASCAR Xfinity Series driver Riley Herbst will move over to the Stewart-Haas Racing camp starting in 2021.
Herbst will take the wheel of the No. 98 Mustang that was vacated by Chase Briscoe after being promoted to the NASCAR Cup Series in the No. 14 entry.
The No. 98 @MonsterEnergy Ford Mustang has a nice ring to it. Welcome to the team, @RileyHerbst! pic.twitter.com/nSUcitg4Pz

— Stewart-Haas Racing (@StewartHaasRcng) December 10, 2020
"Being on a team with such a strong run of success is the kind of opportunity every driver wants," Herbst said. "Expectations are definitely high, but the highest expectations are the ones I've set for myself. I'm proud to be a part of Stewart-Haas Racing and I can't wait to climb into that No. 98 Monster Energy Ford Mustang next year."
Monster Energy, a long-time partner of Herbst, will take a "majority" of the 33-race schedule in 2021. Richard Boswell will remain as crew chief for the No. 98 Mustang.
"We have been a part of Riley's racing career since it started and we are genuinely excited about rejoining Stewart-Haas Racing," said Mitch Covington, vice president of sports marketing, Monster Energy. "We saw Riley's potential early on and it's been proven by how quickly he has adapted to stock cars. He's a next-generation talent with all the resources to succeed."
"Riley has really just scratched the surface of his potential," said Greg Zipadelli, vice president of competition for Stewart-Haas Racing. "He reminds us a lot of Cole Custer and Chase Briscoe – two drivers who came to SHR's Xfinity Series program with plenty of potential who then realized that potential and, between the two of them, won a lot of races and are now in the NASCAR Cup Series. Riley has the talent to emulate what Cole and Chase did in our equipment and we're going into 2021 with the expectation that we'll celebrate his first Xfinity Series win together."
The Las Vegas native made his full-time debut in the Xfinity Series this past season, driving the No. 18 for Joe Gibbs Racing to a lackluster result.
While he did qualify for the NASCAR Playoffs, Herbst found himself in consistent trouble on track, recording over 20 incidents during the 33-race season.
Across those starts, Herbst finished in the Top-5 only four times and failed to secure a win while former teammates Harrison Burton and Brandon Jones found victory lane multiple times. The 21-year-old driver would finish the season 12th in the final points tally.
Herbst will make his 2021 debut for Stewart-Haas Racing in the No. 98 Mustang at Daytona International Speedway on Feb. 13.