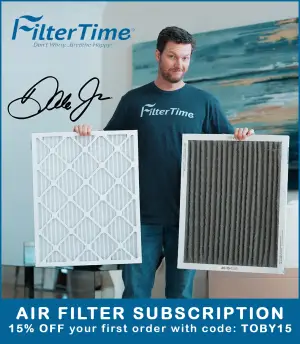 When the NASCAR Gander RV & Outdoors Truck Series heads to Darlington Raceway for the first time in nearly a decade, Halmar Friesen Racing's No. 52 Toyota Tundra will be painted a bit of a different color, truly embracing the track's annual "Throwback Weekend".
Stewart Friesen's No. 52 will be painted red and white to honor Stewart's grandfather Stan who raced a similarly designed coupe all around the state of New York in the early 1970's.
Friesen – who in order to make the playoffs, will likely have to park his No. 52 Tundra in victory lane over the next two races — was elated for the opportunity to honor his grandfather on his No. 52 Toyota Tundra, the man who started it all for the Friesen's in racing.
"Really excited that the truck series, because of COVID and because of the schedule changes, have included a track I've always wanted to race at [Darlington Raceway], and this year we do." said Friesen.
"Really appreciative of Chris [Larsen] for letting us do a throwback of my grandfather Stan Friesen, "Pops" or "Papa" to me and my cousins. This is the throwback, this is Dolly Dear", Friesen said while unveiling the red and white Toyota Tundra.