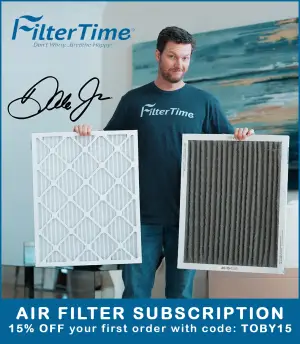 44 races into his NASCAR Xfinity Series career, Noah Gragson is finally chiseling rock-solid finish after rock solid finish.
Through eight starts in 2020, Gragson has already racked up his first two career victories to go along with five top-5s and six top-10 finishes. The Las Vegas-native sits second in the Xfinity Series championship standings.
He's fun, unpredictable and his enthusiasm is absolutely infectious (see his victory celebration following the season-opening event at Daytona).
However, just as Gragson has started to really get his footing on the race track, now come questions about his future.
"I'm fighting for a job right now. I don't really know what I'm going to do next year," said Gragson after a runner-up finish in Saturday's EchoPark 250 at Atlanta Motor Speedway. "Hopefully I'll be racing."
Hopefully, the man, who scored a $100,000 Dash4Cash bonus for his efforts at Atlanta, will be racing.
The 21-year old has been nothing short of remarkable of late.
He ranks fourth in the Xfinity Series this year in laps led with 153 (when you remove Kyle Busch from the equation, Gragson is third-best in 2020). His season average finish of 7.1, is second amongst Series regulars to only Harrison Burton.
When you look at the most difficult tracks that have been visited so far on the schedule — Darlington, Bristol and Atlanta — Gragson has recorded top-five finishes at all three.
While he has been good this year, is he perfect?
No.
In fact, on his path to victory at Bristol a week ago, Gragson made contact which sent his teammate Justin Allgaier into the wall. He's also had incidents with Myatt Snider and Ross Chastain earlier in the year, which led NASCAR sitting him down in their hauler before practice at Phoenix in March.
Still, through it all, Gragson has remained confident in his abilities and he has not wavered on the race track.
Even though eight races is full from a full season, Gragson has earned at least one more year driving for a top-tier team like JR Motorsports with the performance he has turned in so far in 2020.