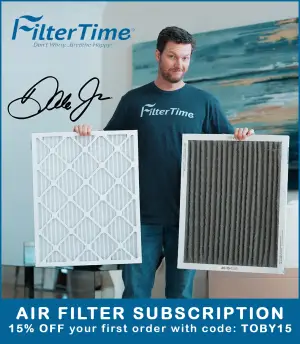 Looking at the results of Thursday's NASCAR Camping World Truck Series event at Bristol Motor Speedway, a 13th-place result for Kaden Honeycutt and On Point Motorsports probably doesn't quite jump off the page.
However, for a driver making his sixth NASCAR Truck Series start, driving for an organization that has struggled to find its bearings this season, the top-15 result in a much-needed boost of confidence for both parties.
Not to mention, a solid result for the 19-year-old makes the tough decisions of a week ago plenty worthwhile, after electing to skip a rescheduled CARS Late Model Tour event – giving up a chance at the championship – to compete in the No. 30 truck at Kansas Speedway.
In his five Truck starts prior to Thursday night at Bristol, Honeycutt had impressed a number of people, splitting time between G2G Racing and On Point Motorsports, which had netted him a 21st-place finish with both organizations at Nashville and Richmond.
Starting the UNOH 200 from 27th, Honeycutt was critical of his qualifying effort prior to the race, saying he tried too hard, implying he gave up some precious track position before the race got underway.
Despite gaining a couple of spots early on in the event, the handling of Honeycutt's No. 30 Friends of Jaclyn Foundation Toyota Tundra was starting to become unfavorable, dropping him to the edge of the top-30 by the time he made his first pit stop at Lap 42.
Having gained some track position in an eight-lap green flag run to the end of the race's first stage, Honeycutt and crew chief Will Brafford utilized some pit strategy to thrust themselves into the top-15 to start the second stage.
After a couple of cautions and stragglers coming to the pits, Honeycutt found himself inside the top-10 as the second stage wound down, but showed some impressive speed and racecraft while holding the position down for 20-plus laps, scoring his first career stage points.
With the experience gained through the first two stages, as well as a better-handling truck, Honeycutt was able to knife his way through the pack in the closing 80 laps of Thursday's 200-lap contest, re-inserting himself into the top-15 with just over 40 laps to go.
Over the course of the final 40 laps, the driver of the No. 30 would settle into position, bringing his entry home a career-high 13th, nabbing the second top-15 finish of the season for the CARS Late Model Tour winner.
An opportunity that started as a last-second deal with G2G Racing at Martinsville, has turned into a six-race NASCAR Truck Series schedule – two with G2G, four with On Point – one that has resulted in multiple top-25 results.
At this time, whether or not Honeycutt continues with On Point Motorsports for the final three races of the season is unknown, and dependent on sponsorship, but one thing is for sure, this 19-year-old Late Model racer from Willow Park, Texas, has proven he's capable of making his name known in NASCAR's National Series.