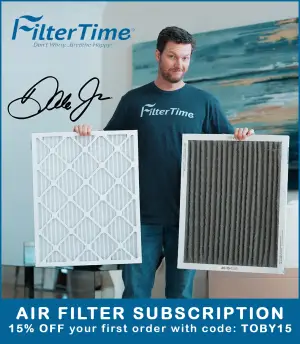 Landon Huffman announced Friday that he will be partnering with Dale Earnhardt Jr. and Amy Earnhardt's High Rock Vodka for the upcoming late model events at the iconic and newly re-opened North Wilkesboro Speedway.
The vodka brand, which is produced by Sugarlands Distilling Company, which is headquartered in Tennessee, dropped the news in the form of a video shared to Twitter:
Fired up to announce we're going racing with @LandonHuffman!

August 30 and 31 at iconic @NWBSpeedway!

Don't forget @DaleJr hits the track Wednesday night in the @SunDrop car.

See you there! pic.twitter.com/tPl3rlJeM0

— High Rock Vodka (@HighRockVodka) August 19, 2022
Huffman didn't waste any time getting to his moonshine ambassador duties as well.
I got to try moonshine straight from the still & I don't think they wanted me to shoot it 😂😂😂😂

DOWN THE HATCH BOYS

Apparently it works better if you sip it and savor the flavors 🫡😅@SugarlandsShine @HighRockVodka pic.twitter.com/R38r1d37PR

— Landon Huffman (@LandonHuffman) August 19, 2022
The races that Huffman will be competing in at North Wilkesboro are the twin 50-lappers, on August 30th and 31st.
The 26-year old driver is best known for his success in his own No. 75 late model, which he recently scored a second and third-place finish in his efforts in a twin feature night at Hickory Motor Speedway on August 13th.
Huffman is in the midst of a battle for the 2022 Hickory Motor Speedway track championship. The Track Championship battle is into the Playoffs and Huffman is the point leader over Annabeth Barnes Crum by 134 points.
If Huffman can hold onto the top spot at the end of the Playoffs, he'll join his father, Robert Huffman as a track champion at Hickory Motor Speedway.