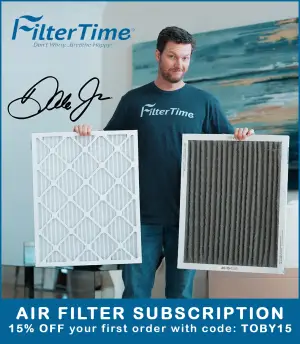 As the NASCAR Camping World Truck Series makes its return to Indianapolis Raceway Park, Noblesville, Indiana-native Chris Hacker will get the opportunity to compete at his hometown track.
The 22-year-old will compete for On Point Motorsports in the T-Sport 200 on July 29, piloting the No. 30 Toyota Tundra TRD Pro. Hacker will have primary sponsorship from TJ's Team Foundation.
TJ's Team Foundation is made up of volunteers, who help families in the form by paying mortgage bills, rent, utilities, car payments, groceries, gas, and care packages during their child's treatment.
The foundation was started by Anna and Travis Anderson after their six-year-old TJ Anderson lost his battle with cancer in 2018. According to  TJ's Team Foundation, children only receive four percent of the federal research budget, but TJ's Team Foundation feel that they deserve a better chance at a healthier life.
"The last thing you want to worry about is will I have a home to return to, so, TJ's Team seeks to alleviate the financial burdens of daily life while patients are in treatment," said  TJ's Team Foundation co-founder Anna Anderson.
"Hospital stays are eight days or longer and cost nearly five times as much as hospitalizations for other conditions 12 days versus four days or $40,400 versus $8,100 per stay, this is a financial burden that no one ever prepares to deal with. That's where  TJ's Team Foundation comes in to help eliminate any financial stress and lend emotional support."
TJ's Team Foundation now takes its mission to NASCAR with Hacker, where race fans will have the opportunity to see their name on Hacker's No. 30 Toyota Tundra Pro for the series' return to Indianapolis Raceway Park, with a minimal donation of $50 to TJ's Team Foundation.
"TJ loved NASCAR and we have since continued to embrace the sport with passion in his honor," said Travis Anderson. "When we were made aware of Chris Hacker and the struggles that he has gone through to get onto the track, we knew he was a driver that we wanted to be aligned with in helping us promote TJ's Team Foundation.
"Chris's passion is what stood out to me, just seeing a kid that has medical issues put everything he has into chasing his dream, reminds me of my son TJ. We are just hoping to utilize the NASCAR platform to spread the word about  TJ's Team Foundation and we are proud to have Chris as our ambassador."
In seven NASCAR Camping World Truck Series starts – for Reaume Brothers Racing and Niece Motorsports — Hacker has secured a career-best 16th-place finish at Martinsville last fall.
Hacker joins a growing list of drivers to compete in On Point Motorsports' No. 30 this season, including Tate Fogleman, Josh Bilicki, Camden Murphy, and Kaden Honeycutt.