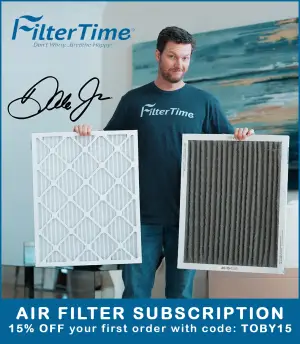 AJ Allmendinger was critical of his spotter Frank Deiny Jr. after an incident on lap 143 of Saturday's NASCAR Xfinity Series Crayon 200. Allmedinger says he didn't know that Alex Labbe, who was driving the No. 36 DGM Racing entry, was in the high lane to his side.
Allmendinger came up into Labbe, which sent both Allmendinger and Labbe into the outside wall. As they both skidded into the wall, Brandon Jones took a shot from Brett Moffitt into the rear bumper, which sent Jones spinning into the inside wall. As Jones hit the wall, the entire rear end of the No. 19 Joe Gibbs Racing car lifted into the air.
Here is video of the incident that ended Brandon Jones' day:
Not clear 😔 pic.twitter.com/XWMjGGOTM2

— NASCAR Xfinity (@NASCAR_Xfinity) July 16, 2022
In addition to Allmendinger, Labbe, Moffitt and Jones, Joe Grad Jr. and JJ Yeley also received contact in the crash.