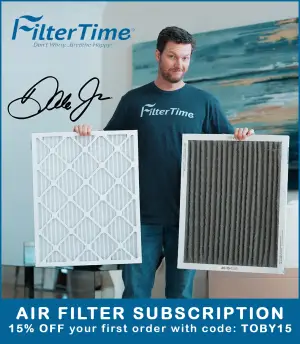 On Friday, Stewart-Haas Racing and Tony Stewart Racing announced a partnership with Rinnai Tankless Water Heaters that will span the NASCAR and NHRA platforms for the two organizations.
According to the press release, Rinnai will serve as an associate sponsor on the No. 14 Stewart-Haas Racing Ford Mustang, which will be driven by Chase Briscoe, during the 2023 NASCAR Cup Series season.
Additionally, Rinnai will become the Official Tankless Water Heater of Stewart-Haas Racing.
"Our expertise in tankless water heating is unmatched, and this partnership with Tony Stewart and his NASCAR and NHRA teams allows us to tell that story in a thrilling, team-oriented environment that emulates the quality and dedication we put into our products and service," said Frank Windsor, president, Rinnai America Corporation.
"The similarities of our business to racing are numerous, especially when speed, efficiency, and superior quality are keys to success. Performance is paramount, and that's something Rinnai has always understood. It's part of our overall commitment to our customers, and racing embodies that commitment."
Briscoe, 28, scored his first-career NASCAR Cup Series victory at Phoenix Raceway in 2022 and went on a surprisingly sustained run in the NASCAR Cup Series Playoffs. Briscoe would eventually be narrowly eliminated in the final race of the Round of 8. Briscoe would finish ninth in the year-end championship standings.
As far as the NHRA side of things, Tony Stewart Racing drivers Leah Pruett and Matt Hagan will also showcase the Rinnai logo in the NHRA Camping World Drag Racing Series in 2023. Pruett will have full primary sponsorship from Rinnai on her Top Fuel dragster in two events –Winternationals and Carolina Nationals — while Hagan will have a full primary sponsorship from Rinnai on his Funny Car at the New England Nationals.
"We're incredibly proud to have this partnership with Rinnai because it shows the strength of our motorsports program," Stewart said. "NASCAR and NHRA offer two very different fan experiences and combined they touch every corner of the country. Rinnai and its customers get the best of both worlds because our program allows a number of choices to promote its products and services."
The 2023 NASCAR Cup Series season gets underway with the exhibition Busch Light Clash event at the LA Memorial Coliseum on Sunday, February 5, 2023.