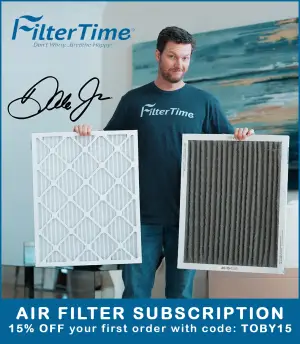 Kevin Harvick has accomplished a lot over the course of what is undoubtedly a NASCAR Hall of Fame-worthy career. On Thursday, Harvick officially announced that the 2023 NASCAR Cup Series season will be the final full-time season of his NASCAR Cup Series career.
As Harvick prepares to suit up for one last full season in NASCAR Cup Series competition, his sponsor Busch Light continues to innovate from a marketing and fan engagement standpoint.
If Harvick can score the victory in the 2023 Daytona 500, Busch Light is prepared to give $2 million to one lucky fan to celebrate the victory as well as Harvick's upcoming retirement.
For Harvick, who scored the 2014 NASCAR Cup Series championship in his first season of sponsorship from Anheuser-Busch, feels that he could never have reached the pinnacle of the sport without their support. Harvick is eternally grateful to the brand and is excited at a chance to change the life of a fan.
"There are so many factors that go into building a successful career like the one I've been blessed to have, but without a doubt, the support of my fans has been something I couldn't have done it without," said Harvick. "Busch Light has always seen that, put fans first and led the rallying cry. Now for my final race at Daytona, there's really no better gesture than to let the ones who helped get me here share in the winnings. I'm grateful to Busch Light for stepping up and making that possible."
Harvick is grateful to Busch Light, and likewise Busch Light is forever grateful to Harvick as well.
"Our relationship with Kevin has extended beyond what we believed was even possible as a sponsor in NASCAR," said Krystyn Stowe, Head of Marketing Busch Family & Natural Family at Anheuser-Busch. "We want to go BIG for his final season and rally his fans to support him at his last Daytona 500, kick starting the most explosive season of his career. We're going to be right beside him, cold Busch Lights at the ready in Victory Lane all season long."
So, how do you enter to win the $2 million? It's easy, just go to busch.com/winthepurse and enter for a chance to win. According to a press release from Busch Light, the contest will open on January 13th and it will run until February 18th.
While the $2 million payday would probably rank as the biggest promotion Busch Light has ever done for Harvick fans, the brand has really dug deep over the years to do some really, really cool stuff.
In 2019, the company which shares a name with two of Harvick's top rivals in the sport — Kurt Busch and Kyle Busch — removed their Busch nameplate from his paint scheme and instead replaced it with HARVICK at Dover Motor Speedway.
In 2021, the company had a unique contest where they ended up giving a fan a job, which came with a $50,000 salary to become an actual member of Kevin Harvick's No. 4 Stewart-Haas Racing race team. Later that season, Busch allowed fans to name the NASCAR Cup Series event at Kansas Speedway, which they had purchased the naming rights to. That race ended up being known as the Buschy McBusch Race 400.
There have been tons of other interesting promotions involving Harvick from Busch Light over the years, including turning his race car's sheet metal into collectible cans, a special paint scheme design aimed to poke fun at Millennials and more.