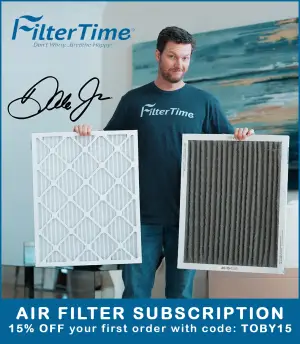 Fr8Auctions will return to sponsor Front Row Motorsports in both the NASCAR Cup Series and NASCAR Craftsman Truck Series in 2023, marking the eighth season of a long-standing relationship between the two parties.
The asset liquidation firm will continue to provide support to Front Row Motorsports in the NASCAR Cup Series – with 2021 Daytona 500 winner Michael McDowell – and the NASCAR Craftsman Truck Series – with 2022 NASCAR Truck Series champion Zane Smith.
"We are thrilled to continue our support of FRM, Michael, and Zane as they both build on their huge successes of 2022," said Marcus Barela, Founder, Fr8 Auctions. "It was awesome to be part of the championship year with Zane, and watching Michael run his best statistical season in Cup to date only excites us more for what is coming this season for him and that team."
Fr8Auctions will make its debut on the No. 34 Ford Mustang at the LA Memorial Coliseum on February 5 for the Busch Light Clash, as well as both events at Atlanta Motor Speedway, the All-Star Race at North Wilkesboro Speedway, and the regular-season finale at Daytona.
"This is a big milestone to be celebrated and admired," said McDowell. "Fr8Auctions has been a loyal supporter of Front Row Motorsports and have been a critical part of our growth. It is great to have their continued support because we can't continue to get better without their support. We have bigger goals this season and Fr8Auctions.com will get us started in the right direction at The Clash and be with us all season."
The organization comes off a record season in both the NASCAR Cup Series and NASCAR Craftsman Truck Series. Michael McDowell scored a team-high 12 top-10 finishes in 2022, while Zane Smith captured the series championship at Phoenix.
Zane Smith will carry the company's branding in the Fr8 208 at Atlanta Motor Speedway on March 18, on-board his No. 38 Ford F-150, in hopes of bringing the company a victory at its home facility.
"We really want to get the Fr8Auctions.com Ford into victory lane at Atlanta during their race event this year," said Smith. "That is a goal that we have this season. Also, they were one of the biggest supporters of our program last season, and I am excited to have Fr8Auctions.com with us as we chase our second championship together."
Fr8Auctions also supports The Brave Like Wyatt Foundation, established in 2019, which strives to honor the memory of Wyatt Hatcher, who was born with Hypoplastic Left Heart Syndrome and had a heart transplant before his second birthday. The transplant allowed Wyatt to enjoy nine more years of life, and even beat cancer, before passing away in January 2022.
"It is also really special to be able to continue our support of the Brave Like Wyatt Foundation," added McDowell. "The motorsports community has always been about giving back and supporting others in need. Nobody defines that better than Marcus Barea (founder, Fr8Auctions.com) and his team."