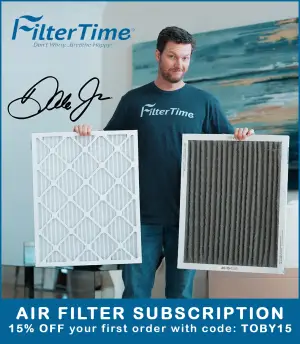 After a season with Our Motorsports, Anthony Alfredo will have a brand-new home for the 2023 NASCAR Xfinity Series season, announcing Wednesday he'll join BJ McLeod Motorsports to pilot the No. 78 Chevrolet Camaro.
The 23-year-old will join Garrett Smithley – previously announced to pilot the No. 99 – as part of BJ McLeod Motorsports' NASCAR Xfinity Series lineup for the upcoming season, which will begin at Daytona in February.
Racing full-time once again in 2023! Very thankful for the opportunity BJ, Jessica, and everyone at the team have given me alongside our great partners. It means so much my crew from last season believes in me enough to make the move with me as well. We are just getting started. pic.twitter.com/AFCLxeDvzl

— Anthony Alfredo (@anthonyalfredo) January 11, 2023
Dude Wipes will retain its position as a primary sponsor of Anthony Alfredo's efforts in the NASCAR Xfinity Series, after staying with him through his Cup Series tenure at Front Row Motorsports, and last season at Our Motorsports.
According to a team release, Alfredo will continue to work with the same crew members that he did while at Our Motorsports in 2022, a key detail that the driver thinks will enhance the team's performance
"I am truly grateful for the opportunity BJ, Jessica, and all of BJ McLeod Motorsports have given me. We have great sponsors and long-term partners that we are proud to keep working with as well." said Alfredo "It wouldn't be possible without them, Team Dillon Management, and all of my supporters. One of the most exciting things is that I will be working with the same crew members from last year which will be crucial to our success since we can continue to build off of what we have learned together. We are all excited to get this season underway."
The 2023 NASCAR Xfinity Series season will mark the first time in Alfredo's NASCAR National Series career that he's remained in the same series in back-to-back seasons, having jumped between each of NASCAR's top-three divisions since 2019.
"We are thrilled to welcome Anthony to the team," said team owner BJ McLeod. "His experience & results in both the Xfinity and Cup series over the past few years are very valuable and we know he will be a great asset to BJ McLeod Motorsports."
In 2022, Alfredo finished 15th in NASCAR Xfinity Series points piloting a second entry for Our Motorsports, in which time he collected one top-five and four top-10 finishes, with a season-high fifth-place finish coming at Auto Club Speedway.