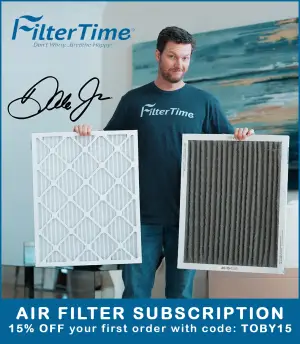 Dale Earnhardt Jr., who will run two NASCAR Xfinity Series events during the 2023 season, revealed the location of one of the two starts on Tuesday. In a JR Motorsports press release, it states that Earnhardt will pilot the No. 88 JR Motorsports entry at Bristol Motor Speedway on September 15th.
The Bristol start will come with Unilever Brands as the sponsor of the effort, while Earnhardt's to-be-announced start in 2023 will come with Bass Pro Shops on the car. In the announcement, Unilever says they are proud to continue the partnership and look forward to continuing as a sponsor of Earnhardt behind the wheel for years to come.
"We are so proud and excited to continue our partnership with Dale Jr. and his team at JR Motorsports," says Ben Crook, VP/GM Dressings & Condiments Unilever North America. "The equal passion that NASCAR fans have for their favorite brands like Hellmann's and drivers like Dale Jr. is what makes this partnership so special. We look forward to continuing this ride with Dale for years to come."
In addition to Earnhardt's race at Bristol, Unilever will expand its partnership with JR Motorsports as the primary sponsor for Justin Allgaier in six events in 2023. For the driver and owner, it's a big deal to keep the connection with Unilever, which enters its 15th season in 2023, going strong at JR Motorsports.
"We've been partners with Unilever since the very early days of JR Motorsports," said Earnhardt. "They've been with us as our program has grown and been an important part of our success – on and off the track. They're a key component of our company. I'm grateful for their support, and I'm happy to watch our partnership continue to grow."
In addition to the primary sponsorship, Earnhardt will continue on as a brand ambassador for Unilever.
Earnhardt, 48, retired from full-time NASCAR Cup Series competition following the 2017 season, but has continued to run one race per year in the NASCAR Xfinity Series since then.
In his five NASCAR Xfinity Series starts since 2017, Earnhardt has scored two top-five finishes. Earnhardt's best run in Xfinity since 2017 was a fourth-place finish at Richmond Raceway, an event where he won a Stage and led 96 laps. His worst finish over the five-year stretch was a 14th-place effort at Richmond in 2021.
The 2023 NASCAR Xfinity Series Night Race at Bristol is set for September 15, 2023. The race will be broadcasted by USA Network and will begin at 7:30 PM ET.