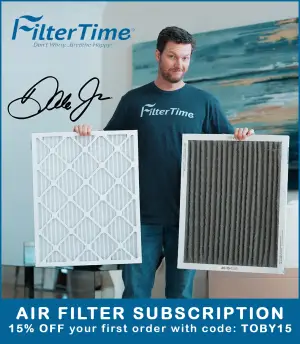 Brandon Jones made the big jump from Joe Gibbs Racing, the team he had driven for over the last five NASCAR Xfinity Series seasons, to JR Motorsports for the 2023 season. On Monday, Jones' new team dropped the new look for his Menards-sponsored race car in the upcoming season.
New year. New scheme.@MenardsRacing x @BrandonJonesRac pic.twitter.com/ilzSAJ7kdM

— JR Motorsports (@JRMotorsports) January 2, 2023
The scheme will pick up where Jones' old Menards look from JGR left off, as the neon Menards yellow will be burned into people's eyes for another season, and the hood of the race car will once again be used to feature B2B partners through Menards.
But overall, the scheme feels like a classic take on Menards branding.
On the sides of the car is a sleek, yet simple, swoop that features orange and red. The swoop gets more and more narrow as it slides down the side of the car, and as the swoop reaches the Menards logos above the rear wheels, it actually transforms into the actual paint swoop from the official company logo.
It's a really cool look.
Jones has racked up five victories over the last four seasons in NASCAR Xfinity Series competition, and it looked like he was on the verge of making it into the Championship 4 this season, until Ty Gibbs, his JGR teammate, punted him from the lead in the closing laps in the penultimate race at Martinsville Speedway.
Jones should come out swinging in 2023, as he'll be driving for an organization that accumulated 15 victories over the 33-race season in 2022.