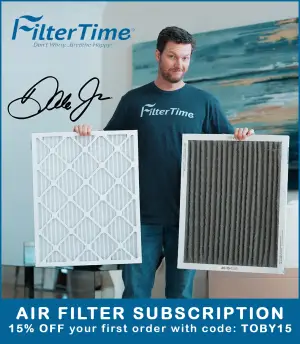 On December 12th, the Superstar Racing Experience (SRX) Series announced a multi-year media rights agreement with ESPN, which will bring back the iconic "Thursday Night Thunder" branding in 2023.
As a kid that grew up watching Thursday/Saturday Night Thunder on ESPN, seeing this announcement instantly brought me back to my childhood. The original Thursday Night Thunder was a truly unique and special feature, which helped launch the careers of numerous drivers that would go on to be legendary within the realm of Motorsport.
The most notable drivers that advanced from USAC Racing on Thursday Night Thunder in the 1980s and 1990s were without a doubt, Jeff Gordon and Tony Stewart.
The famed moniker can very well end up having the same effect in 2023 with the SRX Racing Series. That being said, who are some young up-and-coming drivers that I would like to see dip into the Series for some races?
Rajah Caruth
Rajah Caruth has a rocket strapped to his back and is rising through the ranks of the NASCAR world very quickly. For a driver that didn't begin racing real race cars until 2019, to be a full-time competitor in the NASCAR Craftsman Truck Series in 2023 is nearly unbelievable.
With the SRX Series competing on Thursday nights in 2023, I believe this opens up the door for a young and talented NASCAR Craftsman Truck Series driver to step over and showcase their skills.
The 20-year-old racer is fast, he's tenacious and he has a really good personality. I believe Caruth could really shine in the SRX setting and the ESPN spotlight could help him launch his career to the next level. Sprinkle in some Truck Series success this season, and the momentum of Caruth would be incredible.
Buddy Kofoid
Michael "Buddy" Kofoid may only be 21 years old, but the talented young driver has already been competing in motorsports for 16 years. Yes, he began racing at the age of FIVE.
Kofoid has built a reputation as one of the most talented drivers in the world on the dirt, as he has impressed in USAC National Midgets and POWRi Midgets. With SRX having two dirt races in their six-race season, Kofoid would make sense as a candidate to drive in those events.
But Kofoid has been dipping his toes into the paved racing world as well. In 2021 Kofoid ran some late-model races at Nashville Fairgrounds Speedway.
And in 2022, Kofoid made his first ARCA Menards Series and NASCAR National Series starts, although those both came in dirt events at The Springfield Mile and the Bristol Motor Speedway Dirt Race in the Truck Series.
Kofoid, who has Toyota backing, would be a unique case study of how impactful the modern Thursday Night Thunder could be for a young driver's career, and who knows, if he had a chance to run a paved SRX race and exceeded expectations we could see him on a more consistent basis in the NASCAR National Series ranks.
Carson Kvapil
SRX Racing's Thursday Night Thunder is an action-packed show contested on iconic short tracks across America. What would be better than having one of the brightest rising stars in the world of short-track racing give it a go?
Kvapil drives in the CARS Tour for JR Motorsports and he has captured some truly incredible hardware already.
Kvapil, the son of former NASCAR Truck Series champion Travis Kvapil, was the 2021 CARS Tour Pro Late Model Series champion and in 2022 the 19-year-old racer scored the championship in the prestigious CARS Tour Late Model Stock Series.
The youngster also bested a field that included Dale Earnhardt Jr. in the epic return late model event at North Wilkesboro Speedway in 2022. It would be interesting to see Kvapil get a chance to shine on ESPN.
Kaylee Bryson
Muskogee, Oklahoma's Kaylee Bryson made history in the 2022 Chili Bowl Nationals as she became the first female driver to advance to the A-Main in the history of the iconic indoor dirt midget racing event.
Bryson, 21, made her charge in emphatic fashion as she stormed from 10th to win her heat race to make it into the big show.
Now, like Kofoid, Bryson is tied with Toyota in the manufacturer's driver development program and she has her eyes on one day competing in NASCAR or IndyCar. What better way to spark that trajectory than to have her mix it up in SRX?
Toni Breidinger
While 23-year-old Toni Breidinger hasn't set the world on fire in ARCA Menards Series competition so far, her past success in USAC could be reason enough to see if perhaps she could succeed against grizzled motorsports veterans and up-and-comers alike in SRX.
The California native is the all-time winningest female racer in USAC history, as she has 19 victories on her record.
Breidinger scored six top-10 finishes in 20 ARCA Menards Series starts in 2022, and finished sixth in the overall point standings. But if she were given the chance to compete in SRX, and were able to put together a decent showing, who knows what the future could hold for her?
Additionally, she has an endorsement deal with Victoria's Secret and seems like a star in the making if she can find success in the upper levels of American Motorsport.
While it's a long shot based on her results outside of USAC, I think it would be cool to see what she could do in an SRX event.
What About the Veterans and Legends?
Aside from the youth of the sport, the SRX Series has also been a place where cagey veterans of the sport can help elevate the status of the youngsters by competing alongside them for wins in the Summer.
There are five veteran racers in the NASCAR circle that I think would be amazing to see turning laps in SRX cars in 2023:
Ty Majeski
The short track king — Ty Majeski. It took the 28-year-old a while to finally start clicking in the NASCAR National Series ranks, but in 2022 Majeski broke out in the NASCAR Craftsman Truck Series.
He scored his first two victories in the series and wound up being in the Championship 4 at Phoenix Raceway.
Majeski's 2022 Truck Series campaign and his lengthy resume on short tracks across America make him a no-brainer to be considered for SRX in my opinion.
When it comes to major asphalt Late Model events, Majeski is THE GUY. He's scored wins in the Icebreaker, the Dick Trickle 99, the Florida Governor's Cup, the Howie Lettow Memorial, the Rattler, the Snowball Derby, and the South Carolina 400.
SRX is a series that is built to bring short-track racing to the general population. That being said, no short-track series would be complete without Majeski on the driver roster.
Kyle Larson
NASCAR Cup Series Champion and dirt racing legend Kyle Larson would make a fun addition to the SRX Racing Series driver roster in 2023. Larson is as skilled as they come behind the wheel, and he drives for an organization — Hendrick Motorsports — that has begun encouraging their drivers to get out of their comfort zones and do more outside of NASCAR to push their brands further into pop culture.
Larson on ESPN on Thursday nights in the Summer would go a long way toward achieving that goal, and Larson would have a chance to showcase his skill alongside legends of the sport, like Tony Stewart.
I don't see a downside to this one bit, and Larson would bring a much-needed dirt racing pedigree to the series to give Stewart more of a challenge in those events. Also having a recent NASCAR Cup Series champion would further cement SRX as a legitimate series in the eyes of fans looking for racing competition.
Joey Logano
Larson is for sure a recent NASCAR Cup Series champion, but how about THE MOST recent NASCAR Cup Series champion, Joey Logano? Logano is a Connecticut native and the SRX Series will get their season started on July 13th at Stafford Motor Speedway in his home state.
Logano, aside from being one of the best drivers in NASCAR today, also has brand identity with major companies like Coca-Cola, Shell Pennzoil, Autotrader, and more, and Logano has a unique deal with Hot Wheels, which produces special edition Joey Logano signature edition die casts.
Perhaps Logano running SRX could pave the way for some SRX Hot Wheels products down the line? Who knows, either way, Logano running SRX would be a massive get for the Series. If Logano is not able to run the series, though, it would be equally cool to see another Team Penske 2023 championship driver — Will Power — run in the series.
Jeff Gordon
While the first three drivers on this list are current-day NASCAR drivers, a big draw to SRX is the fact that retired racing legends can show up and compete with current-day legends of the sport. Well, it doesn't get much more legendary than Jeff Gordon when it comes to NASCAR.
The man is a 93-time race winner in the NASCAR Cup Series and he has four NASCAR Cup Series championships on the mantle. Add in that Gordon was one of the drivers that benefitted the most from the original run of ESPN's Thursday Night Thunder Series, and what you have is a recipe for some really awesome television.
Gordon, in addition to his big role in the management of Hendrick Motorsports, has also been scratching his racing itch again lately. Back in September, Gordon competed in the Porsche Carrera Cup at the Indianapolis Motor Speedway Road Course.
Could Gordon be up for the challenge of SRX? I hope so because it would be really cool to see.
Dale Earnhardt Jr.
I already have JR Motorsports driver Carson Kvapil on this list — how cool would it be to see his boss Dale Earnhardt Jr. dip into SRX Racing competition this year?
Earnhardt has been a massive proponent of regional short-track racing, and his involvement has really increased over the last couple of seasons as he has competed in Late Model events at North Wilkesboro Speedway and Florence Motor Speedway this season.
I feel a truly next-level personality with a massive fanbase like Earnhardt has could really help SRX get to the next level, and it would truly help the series' relationship with ESPN get off on an incredible foot.
Earnhardt is friends with Tony Stewart, and Don Hawk — the CEO of SRX — was the long-time business manager for Earnhardt's father the legendary Dale Earnhardt Sr. at Dale Earnhardt Inc.
In his time with DEI, Hawk was in charge of endorsements, sponsorship packages and personal matters of each Earnhardt and Earnhardt Jr.
There are enough connections between Earnhardt and SRX to where the 48-year-old NASCAR Hall of Famer isn't the most far-fetched name to hope for in SRX this year.
---
Who would you like to see compete in the SRX Racing Series in 2023? Leave your list in the comments below, and join the conversation about this story on the TobyChristie.com Twitter and Facebook pages.