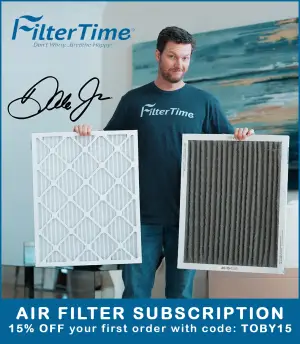 After spending the last two seasons driving for Kyle Busch Motorsports in the NASCAR Craftsman Truck Series, John Hunter Nemechek will take the next step on his road back to NASCAR's top level.
Returning to the NASCAR Xfinity Series for his first full-time campaign in the second-tier series since 2019, Nemechek will join Joe Gibbs Racing to pilot the organization's No. 20 Toyota GR Supra.
"I'm appreciative of the opportunity to get back to competing full time in the Xfinity Series," said Nemechek. "JGR is a group that I know I can win with after getting that win at Texas in 2021. I'm excited to get to work on the 2023 season so we can go out and win some races and compete for a championship."
Sponsorship for the full-season effort will come primarily from Mobil 1, while Nemechek's long-standing partners Berry's Bullets, Pye Barker Fire and Safety, Romco Equipment and his Grocery Store Brands will also pitch in.
Nemechek, a 15-time winner across NASCAR's National Series, will join Sammy Smith as Joe Gibbs Racing's two full-time drivers for the 2023 season, as the organization looks to secure its third straight Driver's Championship.
"John Hunter has shown the dedication it takes to be a successful racecar driver," said Steve DeSouza, Executive Vice President, Xfinity Series and Driver Development. "He has experience at all levels of NASCAR that will be valuable to the team in 2023. We are excited to add him to our driver lineup for the year and look forward to the success the No. 20 team will see."
This season, the 25-year-old competed in 11 NASCAR Xfinity Series events between Joe Gibbs Racing and Sam Hunt Racing, where he scored three top-five and four top-10 results, including a season-best runner-up finish at Richmond.
Ben Beshore, who served as Kyle Busch's crew chief for the 2022 NASCAR Cup Series season, will call the shots on the No. 20 Toyota Supra.