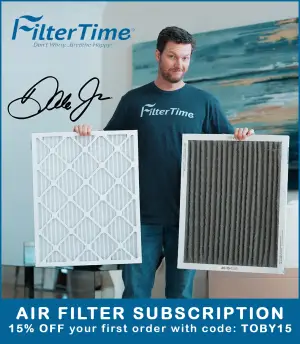 Preston Peltier scored the win in Saturday's Snowball Derby Last Chance Qualifier while Derek Kraus, Jesse Love and Michael House have also advanced to the 2022 Snowball Derby by way of the Last Chance Qualifier Race.
For Peltier, his lifelong goal has been to score a win at Five Flags Speedway. Although Saturday's race wasn't a main event, Peltier says the win counts to him.
"I'll tell you what, this definitely counts. This is all I wanted to do, I wanted to win here. We got one, we're ready to go home," Peltier joked. "I'm just kidding, man."
"We got another race to run here tonight, the Snowflake, I've got a really good car there. Man, I have a bad fast race car for tomorrow. We're in. Thank god," Peltier stated.
For Kraus, a competitor in the NASCAR Craftsman Truck Series, this marks his eighth straight appearance in the Snowball Derby. Now, with another start in the prestigious race secured, Kraus will look to forge forward through the field on Sunday.
"This year, we struggled a lot during practice and then qualifying," Kraus explained. "I feel like we kind of got it figured out a little bit here in the Last Chance. But it's going to be tough to stay on the lead lap tomorrow. We're going to have to try to get forward as fast as we can and try to stay on the lead lap."
It was a frustrating start to the weekend for Love, who says his car just wouldn't cooperate in qualifying.
"For some reason, just couldn't get off the corner yesterday in qualifying," Love said. "It was so tight and that little bit will cost you. We found ourselves in a spot we didn't want to be in by any means and I hope I'm never in this spot again.
While it's been a rough weekend, Love is in the big show, and he now has his eye on the potential prize.
"We ain't dead yet. We still have a shot tomorrow," Love stated with confidence.
The early portion of the LCQ race was a stranglehold for Jesse Love
But as Love held the point, Preston Peltier had knifed his way through the field into second in the No. 48P machine, and with just over 25 laps to go, Peltier made his move around Love for the lead.
With 25 laps to go, Derek Griffith, who was running inside the transfer spots at the time in the third position, had a mechanical issue and came to a stop on the track. Griffith's bid to lock into the Snowball Derby field was thwarted.
With Griffith done, this bunched the field back up for a restart with 25 laps remaining in the event.
On the restart, Peltier pulled out to the race lead, while Derek Kraus battled Jesse Love for a few laps for the runner-up spot. Finally, Kraus got by coming to 21 laps to go.
With 13 laps to go, it appeared that Haedon Plybon got into the side of Brad Keselowski's car, which sent Plybon spinning from the 10th position. George Gorham Jr., who was running 11th, couldn't avoid Plybon and piled in as well. The crash led to massive damage to Gorham's car, after he t-boned Plybon, who was stalled in the middle of the track.
After a rash of cautions late in the race, Michael House, who was searching for his first start in the Snowball Derby after years of frustration, found himself behind Johnny Clark, who had the final transfer spot (fourth).
House, driving with emotion, laid the bumper to Clark several times, and got around him for the spot.
As House worked his way into the top four, Preston Peltier grabbed the checkered flag ahead of Derek Kraus and Jesse Love.
Clark, who looked like he may have secured a place in the field, faded to ninth.
Brad Keselowski was among those who will not race in Sunday's Snowball Derby, but the NASCAR Cup Series champion performed quite well in his first-ever attempt at making one of the biggest Super Late Model events in the country.
Keselowski found himself outside the top 10 in the race at the halfway point of the 50-lap contest. But he kept his head in the game and rallied to finish sixth, just two spots outside of the transfer.
Connor Mosack and Derek Griffith were the other two NASCAR-related drivers that DNQed for the 2022 Snowball Derby.
The Snowball Derby is set to go green on Sunday, December 4th at 2:00 PM ET. Broadcast coverage will be provided exclusively by Racing America. To purchase a PPV ticket to watch the race, click here.
2022 Snowball Derby Last Chance Qualifier Results:
48P-Preston Peltier (Transfer)
9K-Derek Kraus (Transfer)
21L-Jesse Love (Transfer)
1-Michael House (Transfer)
22c-Connor Okrzesik
6-Brad Keselowski
2b-John Bolen
28-Connor Mosack
54j-Johnny Clark
32c-Harold Crooms
23-Billy Vanmeter
57-Zach Telford
53j-Boris Jurkovich
55-Haeden Plybon
10-George Gorham Jr.
12g-Derek Griffith
9m-Brad May
45-Michael Simko